Chocolate Cake with Cranberry Buttercream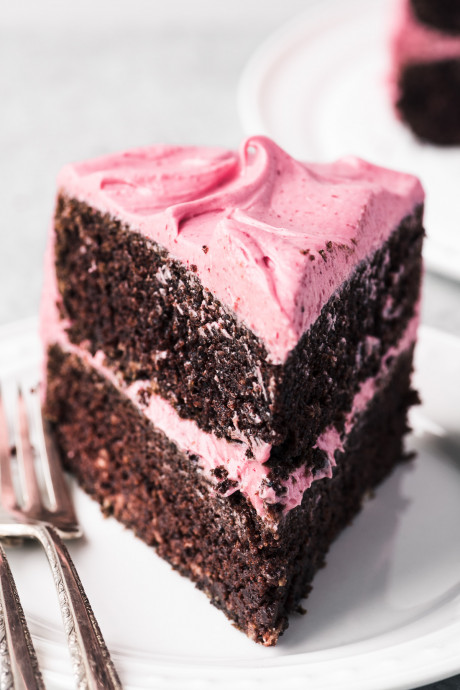 This Chocolate Cake with Cranberry Buttercream is a super quick moist chocolate layer cake recipe made right in a saucepan! And the cranberry frosting is just about the best thing ever, don't miss this amazing holiday dessert.
If you're looking for a show-stopping dessert that your friends and family haven't had a million times before, this is it. As long as there have been delicious desserts, the chocolate layer cake has been the iconic symbol of a sweet treat, and for good reason ~ I don't know anyone who doesn't love a great chocolate cake. And guess what? This particular rich chocolate cake is as easy as a box mix to throw together, all you need is a saucepan (yup, a saucepan) and a whisk.
Ingredients:
2 cups granulated sugar
4 ounces dark chocolate
1/2 cup unsalted butter
1 cup water
2 tsp baking soda
1 tsp baking powder
1 tsp salt
2 cups all purpose flour
1 cup half and half or whole milk
1 tsp apple cider vinegar
2 large eggs
1 tsp vanilla extract
cranberry puree
3 cups fresh cranberries
1/3 cup granulated sugar
buttercream
1 cup unsalted butter, softened
3 cups confectioner's sugar, sifted (more if needed)
1/4 tsp cream of tartar
1/2 cup cranberry puree (directions below, you will not need all of it)