Shrimp Fried Rice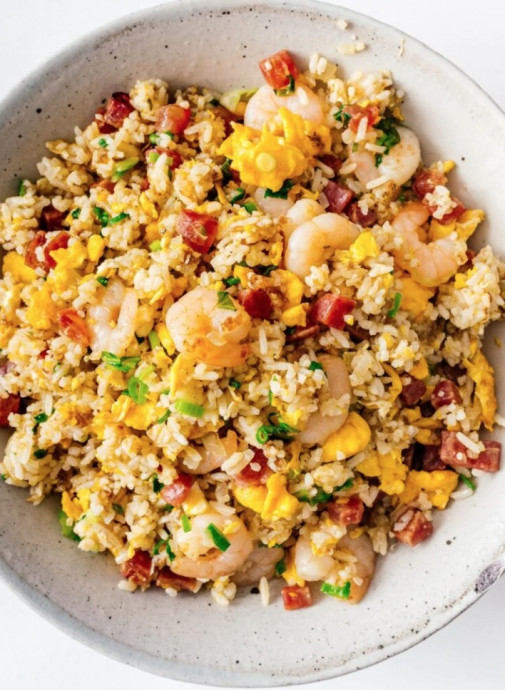 Does shrimp fried rice need an introduction? It's one of the best fried rices out there, based on ingredients alone.
You'll love this fried rice with juicy plump shrimp, crispy rice, fluffy scrambled eggs, sautéed onions, bonus Chinese sausage, and salty, bombastic flavors bursting with hints of ginger, garlic, and white pepper. It's amazing what flavors you can get out of ordinary ingredients with the right technique. All fried rice is good, but great fried rice is life changing. Each grain of rice should be fluffy and distinct and each spoonful should have a bit of everything in it for the perfect bite. It should be hot and have a little bit of crisp on the rice and all the ingredients should be perfectly cooked. Good fried rice can stand on its own and needs no accompaniments – it should be so satisfying that you crave another bowl before you've finished the one in front of you.
Fried rice is usually thought of as a quick 20 minute dish that you just throw together on a weeknight when you can't think of what to make. It's true that fried rice comes together in a flash, but it shouldn't be a second choice when it comes to making dinner.
Ingredients
1/4 cup chicken stock no sodium preferred
1 tsp salt
1 tsp ground ginger
1 tsp garlic powder
1/8 tsp ground white pepper optional
2-4 tbsp neutral oil
4 large eggs lightly beaten
4 links Chinese sausage diced, about 1 cup, optional
1/2 medium onion diced
4 oz shrimp raw, peeled and deveined, small preferred
4 cups cooked rice day old jasmine preferred
2 green onions thinly sliced