Dark Chocolate Truffle Tart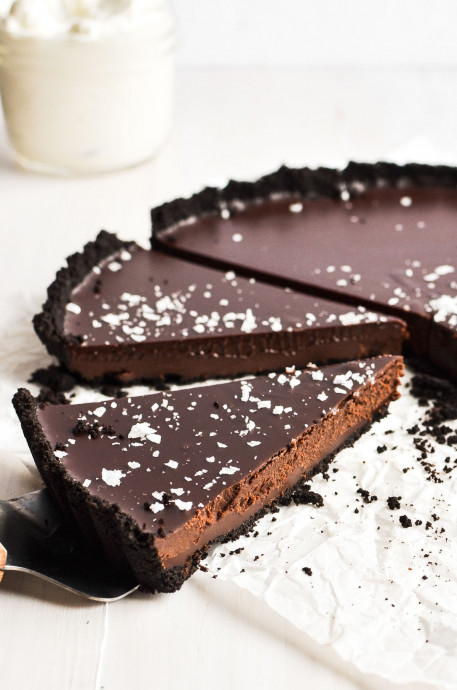 This dark chocolate truffle tart recipe is an easy and elegant indulgence ~ a chocolate-lover's dessert for any occasion, any time of year. It's decadent and rich, but simple to make, and easily converted to gluten free.
If you're a chocolate lover, (and who isn't? ) you know that nothing can beat ganache for pure chocolate decadence. This tart is served up with a some textural interest and flaky salt to bring out the flavor. Chocolate is, of course, appropriate year round, but there's something I especially love about a decadent chocolate dessert in cooler months. It's a perfect way to celebrate the holidays, the new year, or the love of your life on Valentine's Day. The chocolate ganache filling is a simple combination of chocolate and cream, but the addition of a few tablespoons of butter doubles down on that famous silky mouthfeel.Lightly sweetened whipped cream is always a good choice with a rich chocolate dessert ~ I added a little vanilla bean paste to mine, and just enough sugar to barely sweeten it since the tart is so rich already. A little almond extract would be delicious, too.
Ingredients:
For the crust
1 1/2 cups chocolate wafer crumbs (I used Nabisco famous wafers, and used about 3/4 of the package.)
4 tbsp butter, melted
For the ganache
1 1/2 cups heavy cream
12 ounces dark chocolate, roughly chopped (I used 8 ounces bittersweet and 4 ounces semisweet, but feel free to use whatever you like)
4 tbsp butter, room temperature, cut into 1 tablespoon-ish pieces.
1 tbsp flaky sea salt
For the whipped cream
1 1/2 cups heavy whipping cream
1/2 tsp vanilla bean paste
1 pinch salt
granulated sugar or powdered sugar, to taste (I used about 1 tsp granulated sugar)