Instant Pot Baked Beans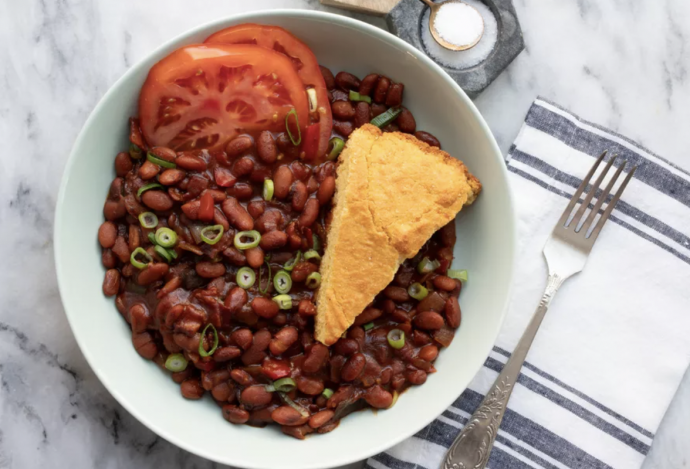 Instant Pot baked beans are made from scratch with dried pinto beans, and there's no presoaking required. Treat your family or take them along to a potluck or cookout. And it's a great dish to make for the game-day crowd. Serve the beans with a skillet of freshly baked cornbread or biscuits.
The dish is cooked in two stages. First, the beans are cooked until they are tender. Then, they're finished with the bacon, chopped vegetables, and barbecue sauce. The total cook time is about 37 minutes, but you'll need to plan on about 45 minutes for the pressure build and release times. All of the cooking is done right in the Instant Pot, so its hands-off and cleanup is a breeze.
The recipe is easily customized. Add extra bacon or some diced ham or smoked sausage. Browned ground beef is another excellent option. Or, if you prefer vegetarian beans, feel free to omit the bacon and add a few drops of liquid smoke. If you like spicy food, add extra crushed red pepper flakes or a few tablespoons of finely chopped jalapeño pepper.
Ingredients:
1 pound dried pinto beans
8 cups water
1 1/2 teaspoons kosher salt, divided, or to taste
6 strips thick-cut bacon, diced
1 cup onions, chopped
1 cup green or red bell peppers, chopped
3 garlic cloves, minced
1/4 cup brown sugar
3 tablespoons molasses
1 teaspoon ground mustard
1/2 teaspoon black pepper
1/4 teaspoon crushed red pepper flakes
1 1/2 cups barbecue sauce, homemade or store-bought
3 tablespoons tomato paste
Cornbread, optional, for serving
Biscuits, optional, for serving
Brown bread, optional, for serving
1 chopped green onion, optional, for garnish