Banana Almond Mocha Smoothie Recipe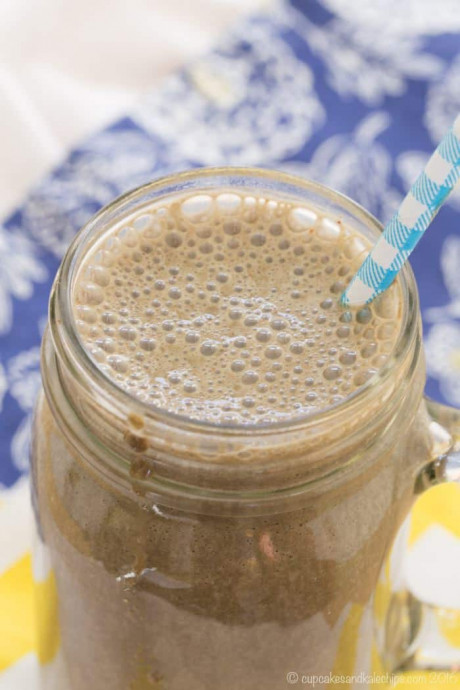 A Banana Almond Mocha Smoothie is a healthy way to satisfy your Frappuccino cravings. Coffee and chocolate come together with a frozen banana and almond butter make it rich and creamy, but still good for you. Move over Starbucks, there's a leaner, meaner option in town for your next breakfast or snack. Sometimes you have a snowstorm that literally has you trapped inside your own home for a solid week.
And other times you spend six months with the kids unable to go to school, play with friends, or, you know, be normal. I think we all know what I am referencing here. You've baked banana bread. You've made granola bars. There have been snow forts or blanket forts. They've biked or sledded or swam or shoveled And screen time. So. Much. Screen time. Now the fighting begins. Or continues. This Banana Almond Mocha Smoothie is just the little glass of indulgence you need. It's a perfect kickstart to the day or afternoon-pick-me-up. Rich, creamy, chocolaty, with enough protein to keep you satisfied till lunch or dinner, but comforting enough to calm frazzled nerves.
Ingredients:
1 cup baby spinach kale, or other greens
1 cup milk of choice I use unsweetened almond milk or cashew milk (see Note)
½ cup cottage cheese or plain Greek yogurt
1 teaspoon instant coffee
1 teaspoon chia seeds
1 Tablespoon cocoa powder
1 teaspoon almond butter
1 frozen banana, cut into chunks
4 ice cubes add more for a thicker smoothie
1 tsp honey sugar, stevia, or desired sweetener, if needed to taste