Healthy Peanut Butter Smoothie with Chocolate Chips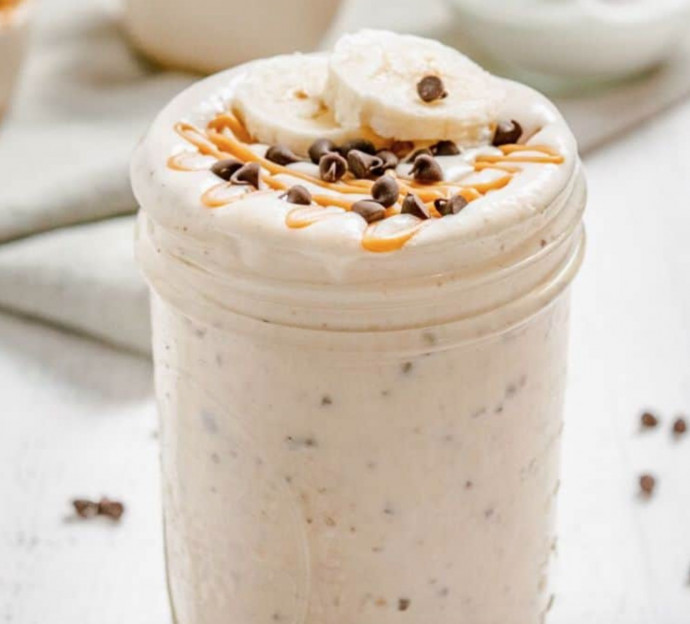 A cool and creamy Chocolate Chip Peanut Butter Banana Smoothie is the perfect way to satisfy your cravings for a favorite flavor combination in a protein-packed treat. And a few simple swaps can make it either light or decadent. Enjoy it as a healthy breakfast, a skinny snack, or an indulgent dessert.
I'm a total wannabe health nut. I love to sneak in superfoods, so I'll make quinoa breakfast bars, add flax seeds to banana oatmeal blender pancakes, and apricot no-bake energy bars with chia seeds are a staple in our house.
But while I'm happy to add baby spinach despite the fact that it mucks up the gorgeous color of my cherry cheesecake smoothie, I am a kale hypocrite.
And then my "crunchy mom" aspirations really go downhill when it comes to dessert.
I absolutely cannot resist honest-to-goodness, sugar-laden ice cream. I'd seriously eat it every day. And I don't mean the "suggested" half-cup serving. I'm talking bring on the cereal bowl and hot fudge sauce and whipped cream. Serious comfort food LOVE!
That's why this Chocolate Chip Peanut Butter Banana Smoothie is the ultimate treat. Since making every day a "sundae" is not really such an awesome idea for my waistline, pancreas, heart, or really anything, this is the perfect way to indulge my sweet tooth in a healthy way.
Ingredients:
spinach, kale, or other dark, leafy greens, optional
1 very ripe banana, frozen and cut into chunks
1/2 cup cottage cheese or plain Greek yogurt
1/2 cup unsweetened almondmilk or regular dairy milk
2 Tablespoons powdered peanut butter (such as PB Fit or PB2) or peanut flour, or 1 Tablespoon peanut butter
a tiny pinch of salt
1 teaspoon honey or maple syrup, if needed, depending on how sweet your banana is
a few ice cubes (start with two or three, and add more if needed)
1 Tablespoon mini chocolate chips or cacao nibs
Additional peanut butter, banana slices, mini chips, cacao nibs, or whipped cream for garnish, if desired