Keto Teriyaki Shrimp Skewers (Kabobs)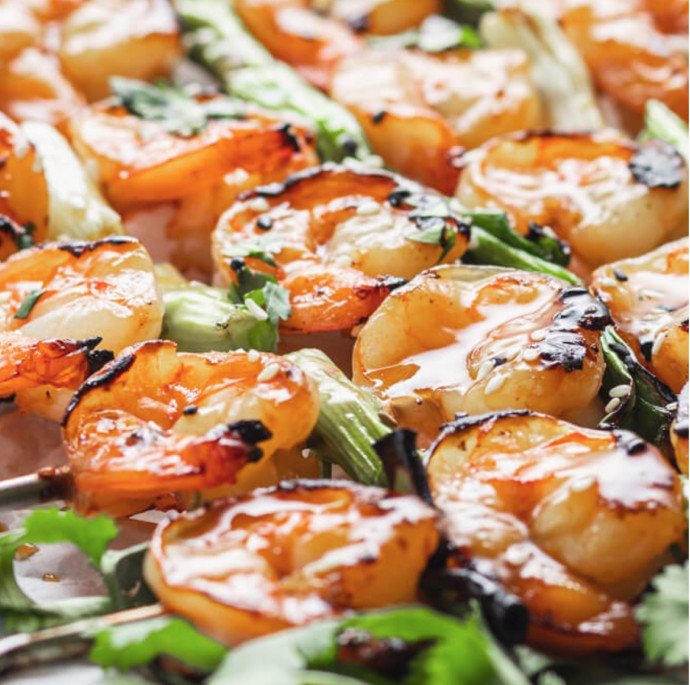 It doesn't get easier than shrimp teriyaki my friends and these teriyaki shrimp skewers are certainly that. The sweet-salty keto teriyaki sauce allows for subs and additions and serves as both marinade and glaze. Plus, shrimp kabobs on the grill cook so quickly you'll have dinner done in no time. If you don't have a grill or weather is inclement, bake or broil these teriyaki shrimp skewers in oven for ultimate convenience.
This sugar-free teriyaki takes minutes to prepare. Use fresh garlic and ginger, ginger-garlic paste from a jar, or granulated garlic and dried ground ginger to flavor it.
Since this is a low carb blog, my keto version is not a traditional teriyaki sauce recipe. It is very tasty and becomes somewhat sticky upon cooling.
Ingredients:
1 1/4 pound Jumbo shrimp peeled, deveined
6 medium Scallions cut into 1 1/2-inch pieces
2 tsp toasted sesame oil
2 tsp Light flavored olive oil
Teriyaki Sauce
1/4 cup Tamari Soy Sauce
3/4 cup Water
1/3 cup Allulose Monk Fruit Sweetener (or your favorite keto sweetener to taste)
1 1/2 tbsp Rice vinegar (or 2 tbsp Dry Sherry)
4 tsp Ginger-garlic paste (or 1 1/2 tsp each fresh grated ginger & garlic)
1 tsp Arrowroot powder* (or 1/2 tsp xanthan gum)