Sparkly Strawberry Shortbread Cookies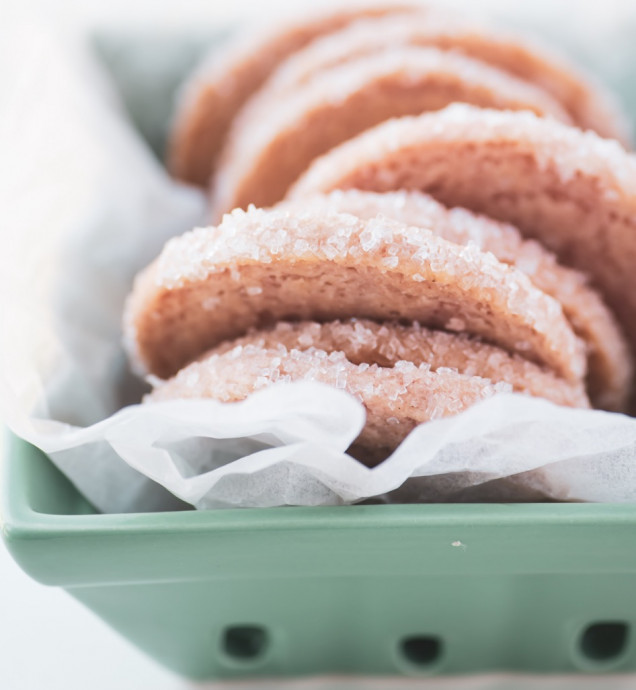 Sparkly Strawberry Shortbread Cookies are pretty in pink cookies that might look demure, but they pack an explosive berry flavor. The frilly edge of sparkling sugar gives a nice crunchy contrast to the buttery shortbread, too. This might be the ultimate strawberry cookie!
When was the last time you had a strawberry cookie? Probably never, right? That's because it's incredibly difficult to incorporate juicy strawberries into a crunchy cookie recipe. Right up until my first bite I wasn't sure this one was going to work. And frankly, it's almost unbelievable that it does, but omg, these cookies actually taste like fresh strawberries.
What's the secret to getting fabulous fresh strawberry flavor into cookies?
It's freeze dried strawberries. That's right. Freeze drying removes all the moisture, and I can process the dried berries into a fine strawberry rich powder in my blender. That way I can add it to shortbread without any extra liquid, which would ruin the texture of the cookie. (You can also buy strawberry powder ready made, if you prefer.)
You know what's even better? Freeze dried strawberries are simply strawberries, so there's none of that artificial flavor we're used to in commercial products.
Ingredients:
1 cup unsalted butter, at room temperature
1/2 cup granulated sugar
1/2 tsp vanilla extract (optional)
2 Tbsp freeze dried strawberry powder
2 cups all purpose flour
sugar edging
sparkling sugar
1 egg white, beaten. I use a pasteruized egg.