Vegan Impossible Swedish "Meatballs"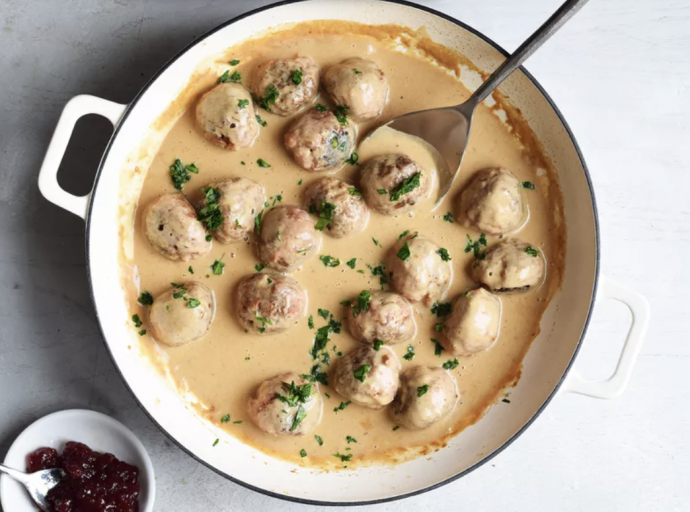 These warm and comforting Swedish meatballs are completely delicious while being completely vegan! We used Impossible Burger ground "beef," now available in many grocery stores, to make the meatballs . No one will be able to tell that the dish doesn't use real meat, since Impossible resembles and tastes like beef. The gravy is made with coconut milk, making it rich and creamy without any dairy. Serve this recipe to any vegan or carnivore and they are sure to be pleased.
Serve the meatballs on a bed of creamy mashed potatoes or with cauliflower rice if you're looking for less carbs. A little lingonberry jam on the side is also a must.
Ingredients:
For the Meatballs:
1 pound Impossible Burger meat
1/2 sweet onion, finely minced
1/2 cup panko breadcrumbs
2 tablespoons coconut milk
1 teaspoon nutritional yeast
1 teaspoon onion powder
1 teaspoon garlic powder
1/2 teaspoon kosher salt
1/2 teaspoon freshly ground black pepper
1/4 cup olive oil
For the Gravy:
3 tablespoons vegan butter
2 tablespoons flour
1/2 teaspoon garlic powder
1/2 teaspoon onion powder
2 tablespoons vegetable bouillon
1 1/2 cups water
1 (15-ounce) can coconut milk
1 to 2 tablespoons soy sauce
1/2 teaspoon Dijon mustard
1/2 teaspoon freshly ground black pepper
Kosher salt, to taste
2 tablespoons fresh parsley