One Pot Cilantro Lime Shrimp Scampi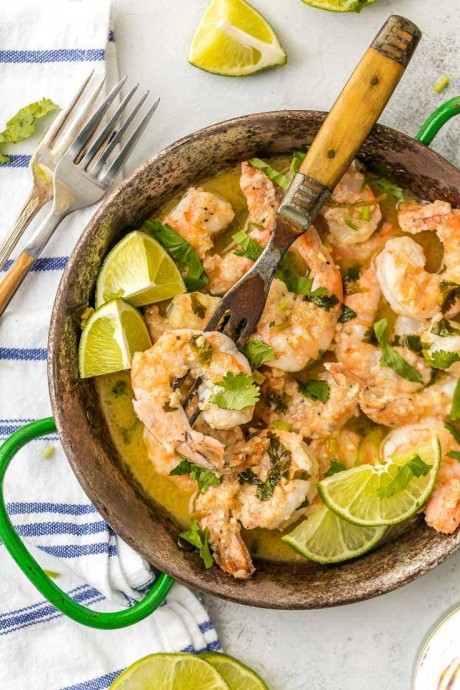 Shrimp Scampi is a classic, but this Cilantro Lime Shrimp recipe takes it up a notch. Turn this quick and easy dish into the most delicious shrimp scampi pasta, or eat it alone as a tasty appetizer!
This One Pot Cilantro Lime Shrimp Scampi is a quick recipe, filled with so much flavor while still being healthy, and is it easy! Ready and on your table in minutes. Win Win Win!
Typical shrimp scampi is made with garlic, butter, lemon, and white wine. I switched things up a bit for this recipe, because cooking is all about making changes. Using lime instead of lemon adds a super fresh twist, and cilantro is just one of my favorite herbs. Other than that, the recipe is pretty true to the traditional.
You man serve this cilantro lime shrimp on its own as an appetizer, but it's also the perfect thing to add to pasta for a full meal. The buttery sauce pairs perfectly with linguine noodles, and creates an amazing shrimp scampi pasta dish. I'd eat this up any night of the week, and I especially love it for nice date nights at home. It's simple, delicious, and super easy to make!
Ingredients:
1/2 cup all-purpose flour
salt and pepper to taste
2 tablespoons olive oil
1 1/2 pound jumbo shrimp cleaned and deveined.
12 tablespoons unsalted butter divided
2 cloves garlic minced
1/4 cup chardonnay or dry white wine
1/4 cup freshly squeezed lime juice
1/4 cup fresh cilantro finely chopped
lime wedges and more cilantro for garnish