Chicken Cordon Bleu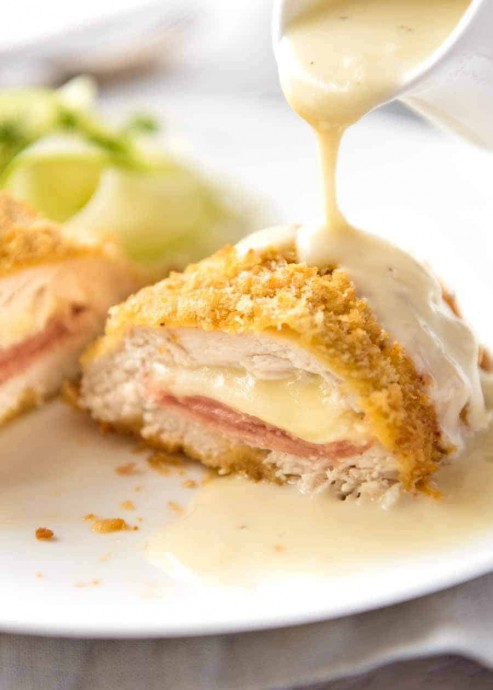 An easy Chicken Cordon Bleu which is quick to prepare, and baked rather than fried. All the flavour, all the crunch, a beautiful golden crumb, and it's better for you! This retro classic is here to stay – always! Chicken stuffed with ham and cheese, coated with crunchy golden breadcrumbs. You'd swear it's fried – but it's baked.
The classic way to make Chicken Cordon Bleu involves breast pounded until thin, layered with ham and cheese, rolled into a log, chilled, dredged in flour then egg then breadcrumbs then deep fried (and you need a lot of oil to deep fry them). Phew! I got tired just typing that out!! And it's certainly not something that I'm making tonight. Here's a comparison of the 2 methods to cook. Whichever method you choose, you'll be greeted with the same glorious sight of molten cheese oozing out of the warm ham stuffing inside the juicy chicken breast, and all that golden crunchy crumb, and to top it all off, that mustard cream sauce!
You can definitely make my Easy Chicken Cordon Bleu tonight. Because it's just that – easy!
Ingredients:
Panko breadcrumbs - 1/2 cup for Super Easy or 1 cup for Quick Dredge
Oil spray
2 small chicken breasts, around 6-7oz/180-210g each
Salt and pepper
4 slices swiss cheese (Note 1)
4 to 6 slices of ham, about 2.5oz/75g (Note 2)
METHOD 1: SUPER EASY
3 tbsp mayonnaise
1 1/2 tbsp Dijon mustard
METHOD 2: QUICK DREDGE
DIJON CREAM SAUCE (MAKES 1 CUP)
1 1/2 tbsp butter
1 1/2 tbsp flour
1 1/4 cups milk (Note 3)
2 tbsp Dijon mustard
3 tbsp parmesan cheese, finely grated