Healthier Blueberry Muffins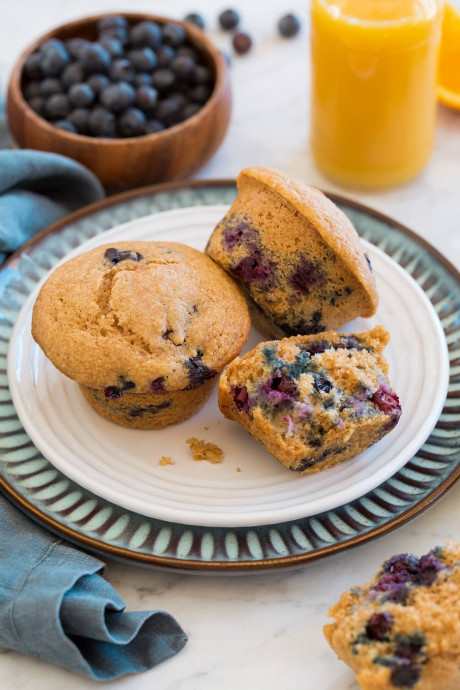 Healthy Blueberry Muffins – made with nutritious whole wheat flour, nutty almond flour, plenty of fresh blueberries, and sweetened with real maple syrup instead of sugar. It's a healthier version that's still perfectly delicious! Is a blueberry muffin healthy? While the obvious answer is no a traditional blueberry muffin is definitely not healthy, we can however make a few simple modifications to make them quite a bit healthier.These blueberry muffins freeze well for several months (though you'll probably have them polished off much sooner), and you don't even need a mixer to make them!
They have a soft and moist crumb, plenty of blueberry flavor, and they are sweetened just enough.
If you are looking for a smarter way to enjoy a muffin without all the refined sugars and unhealthy fats I highly recommend trying these. You may likely agree muffins can still be delicious without all that extra stuff.
While I wanted to make these without any white flour, the texture is quite it bit better with the addition of some all-purpose white flour. You'll end with fluffier muffins and a not-so-overwhelming wheat flavor.
One thing you could try is using 1 1/2 cups white whole wheat flour or whole wheat pastry flour rather including any white flour. Just boost buttermilk to 3/4 cup total.
Ingredients:
1 cup (150g) whole wheat flour (scoop and level to measure)
1/2 cup (56g) almond flour
1/2 cup (72g) unbleached all-purpose flour or oat flour (scoop and level to measure)
1 1/2 tsp baking powder
1/2 tsp baking soda
1/4 tsp salt
2/3 cup (155ml) buttermilk
1/2 cup (120ml) real maple syrup
2 large eggs
1/3 cup (80ml) olive oil*
2 tsp vanilla extract
1 1/2 cups (220g) fresh blueberries