Crab Rangoon Recipe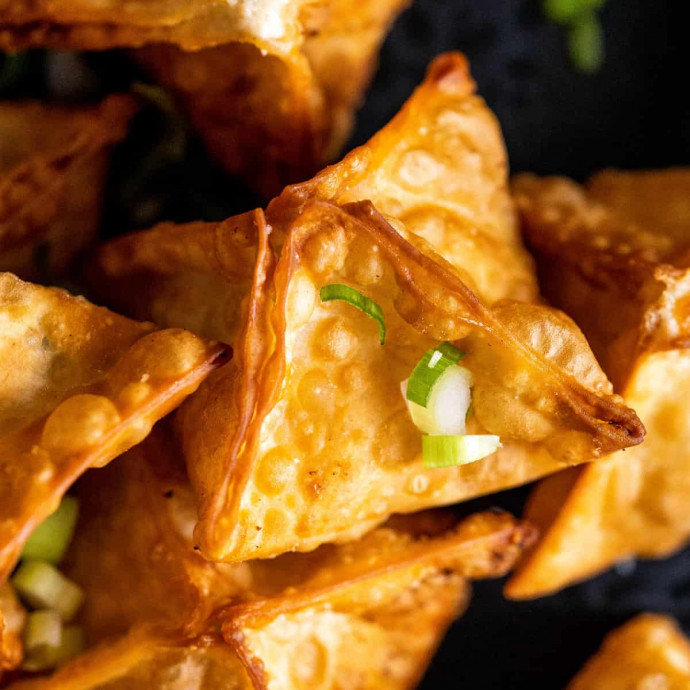 Even better than ordering takeout, this Crab Rangoon recipe is very simple to make, and is such an irresistible appetizer! Crunchy wonton wrappers wrapped around a creamy imitation crab meat filling… perfectly dip-able, and they're freezer-friendly too!
Crab rangoons are my favorite thing to order when we get Chinese takeout. Well mine, and my daughter's. She's completely obsessed!
I can't really blame her, I mean they're always delicious, hot and crispy on the outside, and creamy and smooth on the inside.
But for the amount you get from a takeout place, and what you pay for it, it's not a cheap appetizer, that's for sure.
But a lot of people don't realize how easy they are to make yourself!
When you make them at home, you can control the quality of ingredients, the sweetness level, and you can make your own dipping sauce!
Ingredients:
8 oz cream cheese softened to room temperature
3 oz imitation crab meat drained
2 green onions chopped
1-2 cloves garlic minced
1 1/2 tsp Worcestershire sauce
1 1/2 tsp granulated sugar
1/2 tsp soy sauce
pinch cayenne pepper
1 package wonton wrappers
1/2 cup dijon mustard
1/4 cup rice vinegar
1/4 cup hot water
1 Tbsp sugar
generous drizzle of honey
1 tsp sesame oil
additional sliced green onions