Crispy Breaded Pork Chops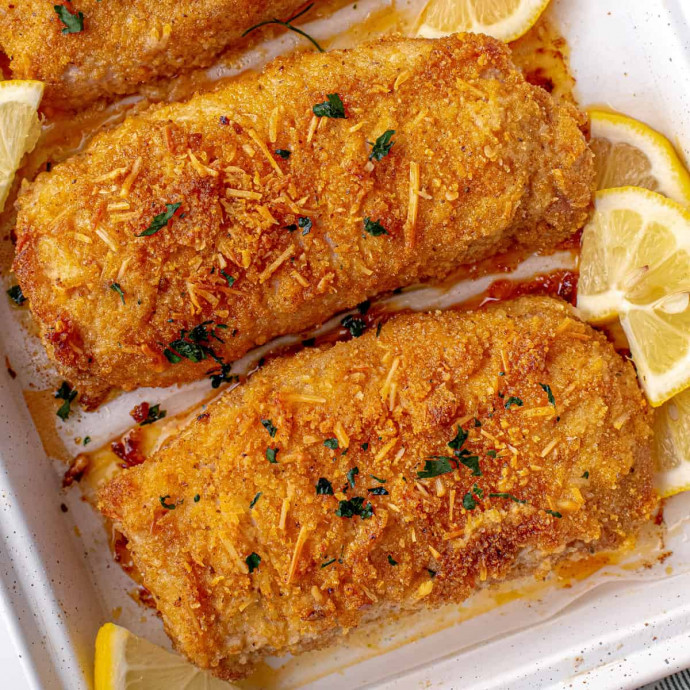 These breaded pork chops are baked to juicy perfection and ready in about 30 minutes! Pork chops are slathered with a thin layer of mayonnaise (which keeps the meat super moist), and breaded with a perfectly seasoned breadcrumb/Parmesan cheese mixture.Growing up, I was not really a fan of the "other white meat", aka, pork. But lately, we've been switching things up… and I have to tell you, I'm not at all mad about it!
When cooked well, pork chops are incredibly delicious and juicy. And this recipe, it's ready in about 30 minutes, which is perfect for a quick weeknight dinner!
By the time the kids get home from school and they work on homework, we're usually in a rush to get dinner together. Throw in after school activities or a little playtime with neighbors and it's an absolute madhouse at dinner time.
This recipe is incredibly versatile, can be prepped ahead of time, and is truly a family favorite!
Ingredients:
Pork
4 boneless pork chops about 1" thick
salt and pepper to taste
Breading mixture
1 1/2 cups plain breadcrumbs
1 tsp kosher salt
1 tsp smoked paprika
1/2 tsp black pepper
1/2 tsp garlic powder
1/4 tsp onion powder
1/4 tsp celery seed
1/3 cup freshly grated Parmesan cheese
1/3 cup mayonnaise