Focaccia Pizza Recipe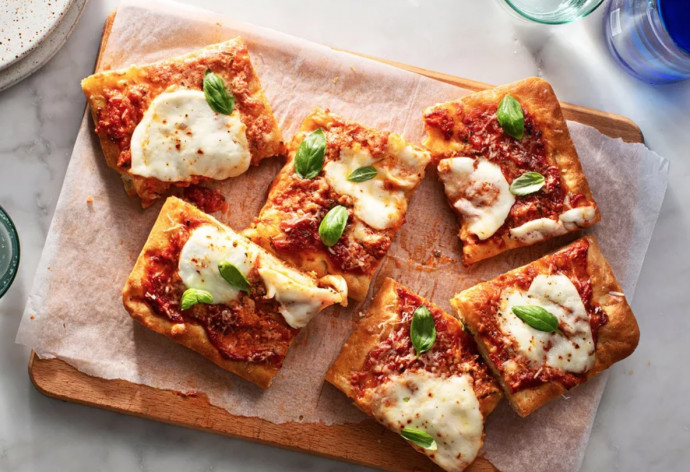 This focaccia pizza is the perfect combination of Italian focaccia bread and toppings, and it takes just minutes to throw together. All you need is about 1 1/2 hours to let the dough rest and proof. There's minimal kneading required to develop the gluten, and the process is incredibly easy when using a stand mixer.
We've included some simple, great-tasting toppings, but feel free to create your pizza with your favorites. Add pepperoni or ground meat to your pizza, or add sliced olives and thinly sliced vegetables. The possibilities are endless, but you should plan on no more than 4 toppings in addition to the sauce and cheese. With a good balance of toppings, your focaccia pizza is hearty enough for dinner.
Ingredients:
For the Focaccia
1 cup warm water
1 teaspoon honey
2 teaspoons active dry yeast
2 3/4 cups all-purpose flour, divided
1 teaspoon fine salt
6 tablespoons olive oil, divided
For the Toppings
3/4 cup homemade or store-bought pizza sauce, or to taste
6 to 8 ounces fresh mozzarella cheese, sliced or ciliegine
Freshly ground black pepper, to taste
1/2 teaspoon crushed red pepper flakes, or to taste, optional
2 teaspoons olive oil, for drizzling
1/4 cup freshly grated Parmesan cheese, for garnish
24 small basil leaves, or several large leaves cut into thin ribbons