Red Velvet Oreo Cheesecake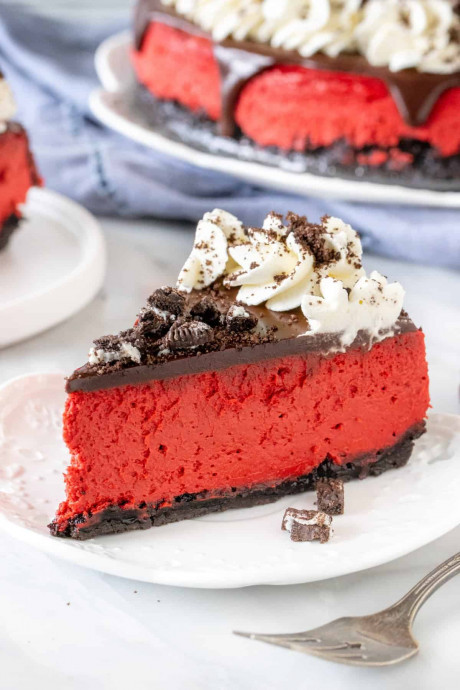 This decadent Red Velvet Oreo Cheesecake has a perfectly creamy red velvet flavor with a silky smooth texture and beautiful red color. It has a thick Oreo crust with even more Oreos on top for the ultimate flavor combo!
If you're looking for an incredibly decadent cheesecake recipe – then look no further than this red velvet Oreo cheesecake. It combines 2 classic desserts, red velvet cake and creamy Oreo cheesecake. The deep red color makes the cheesecake look absolutely beautiful and perfect for impressing any dinner guests. The Oreo crust is extra thick . Then it's topped with chocolate ganache, whipped cream and even more crushed Oreo cookies. There are a few key ingredients in red velvet cake, and this red velvet cheesecake has all of those components: a hint of cocoa powder, buttermilk and a touch of vinegar to create a slightly tangy flavor, red food coloring for the perfect red color. The rest of the ingredients and baking process is what you'd expect from any cheesecake recipe.
Ingredients:
Oreo Crust
26 Oreo cookies wafers and filling
⅓ cup unsalted butter (75 grams) melted
Red Velvet Cheesecake Filling
24 ounces full-fat cream cheese (680 grams) brick-style, at room temperature
1 ¼ cup granulated sugar (250 grams)
3 tablespoons cocoa powder I prefer natural over Dutch-process
¾ cup sour cream (180 ml) room temperature
¼ cup buttermilk (60 ml) room temperature
2 teaspoons distilled vinegar white vinegar is fine
1 - 1 ½ tablespoons red food coloring (15 - 22.5 ml) gel or liquid
4 large eggs whisked
boiling water for the water bath
Chocolate Ganache
4 ounces dark chocolate (56 grams) I used 50%, semi-sweet works too
½ cup whipping cream (120 ml) or heavy cream, around 35% MF
Topping
½ cup whipping cream (120 ml) optional
3-4 Oreos crushed or chopped, for decorating