Baked Corned Beef and Cabbage in the Oven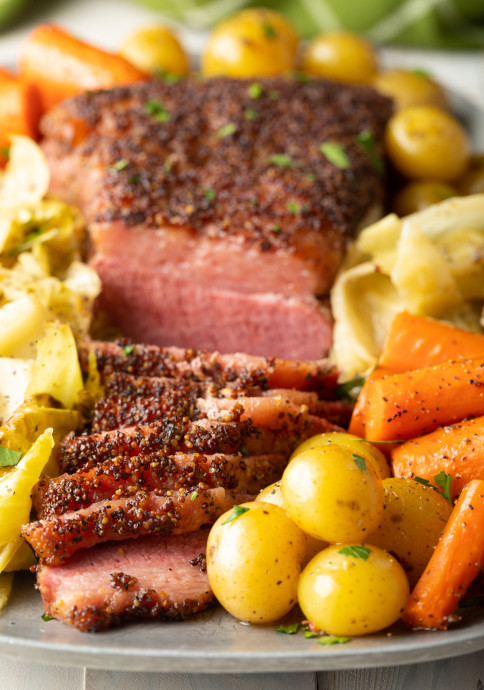 Corned Beef and Cabbage in the Oven – You won't believe how easy it is to make this perfectly tender and flavorful recipe! Our traditional oven-baked cabbage and corned beef recipe cooks low and slow for the most mouthwatering, totally foolproof one-pot dish.
Corned Beef and Cabbage is a classic dish to make for Saint Patrick's Day, Easter, Passover, or any spring celebration. (It's also great for Christmas and New Year's as well!) It features tender, salty, succulent corned beef slow-roasted with earthy winter cabbage for a hearty and comforting dish.
We've tried many versions over the years, and have developed a wonderfully easy, nearly foolproof oven-roasted Corned Beef and Cabbage recipe that the whole family will love. To me, this is the simplest and most flavorful way to make it. This is a complete one-pot meal with potatoes and carrots in the mix, and is ideal to enjoy between seasons or anytime you've got a craving for a spice-full meat and potatoes meal!
Ingredients:
3 ½ – 4 pounds corned beef brisket with spice packet flatcut
3 tablespoons whole grain mustard regular or spicy
3 tablespoons light brown sugar
½ teaspoon cracked black pepper
1 green cabbage
1 sweet onion
2 pounds carrots
1 ½ pounds mini new potatoes
8-10 cloves garlic peeled