Roasted Cauliflower Chickpea Salad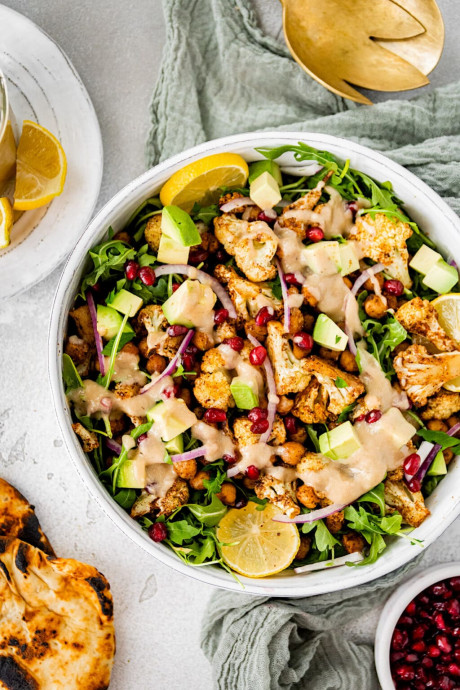 Roasted Cauliflower Chickpea Salad- spiced roasted cauliflower and chickpeas are served over a bed of arugula with avocado, red onion, parsley, and drizzled with a creamy tahini dressing. Serve this hearty and satisfying salad as a main dish or side dish.
f you've been reading our blog, you probably know that my roasted cauliflower chickpea tacos are one of my all-time favorite meals. I love the cauliflower chickpea combo.
To mix things up, I decided to make a Roasted Cauliflower Chickpea Salad and it is insanely delicious! The flavors are INCREDIBLE and the salad is fresh and super satisfying. If you love the tacos, you are going to LOVE the salad. I promise!
The salad is loaded with lots of ingredients, flavors, and textures. The cauliflower and chickpeas get tossed in a spice mixture of garam masala, garlic powder, and smoked paprika before being roasted in the oven. When they are nice and crispy I add them to a bed of arugula and top with avocado, red onion, and fresh parsley.
Drizzle the salad with tahini dressing, toss, and enjoy! You can enjoy this salad as a main dish because it is super filling or you can serve as a side to any meal.
Ingredients:
1 medium head cauliflower, cut into small florets
15 ounces chickpeas, rinsed and drained
2 tablespoons olive oil
2 teaspoons garam masala
1/2 teaspoon garlic powder
1/2 teaspoon smoked paprika
Kosher salt and black pepper, to taste
3 cups arugula
1 avocado, chopped
1/4 red onion, thinly sliced
1/4 cup chopped Italian parsley
Tahini Dressing