Chocolate Covered Strawberry Bars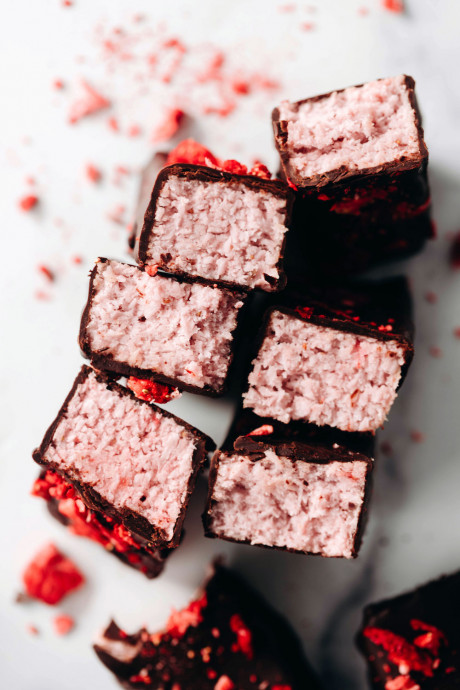 Think: strawberries and cream meets bounty bar. These easy vegan paleo chocolate covered strawberry bars are a decadent no-bake treat!
Chocolate covered strawberry meets strawberries and cream meets bounty bar – that's where I want your imagination to wander when you think about biting into one of these berry bars. We have the perfect thin layer of dark chocolate outside, and a subtly creamy, very coconut, sweet-tart berry inside. So we're hitting all the delicious texture and flavor and health/decadence contrast spots in one bite. And by golly is it one glorious bite.
Before we dive into the ingredient details, I don't want you for even one second longer to live your life thinking that these bars are limited to strawberries only. No no no, friends. I have already tested a blueberry version: divine. Raspberry version? Already planning, already know I will love. Blackberry version? We might have to throw it back to this similar but simplified recipe because I don't know how easy freeze dried blackberries are going to be to find. But you get me. Experiment! And yes, white chocolate on the outside is a very very good choice too.
Ingredients:
2 cups (140g) unsweetened shredded coconut
3/4 cup (100g) fresh strawberries
3/4 cup (15g) freeze dried strawberries
2 tbsp (25g) coconut oil
1/4 cup (60g) coconut cream (solid part from a can of coconut milk refrigerated at least 24 hours)
2 tbsp (40g) maple syrup
Pinch of salt
1 cup (180g) dark chocolate chips, melted