Classic Stuffed Shells Recipe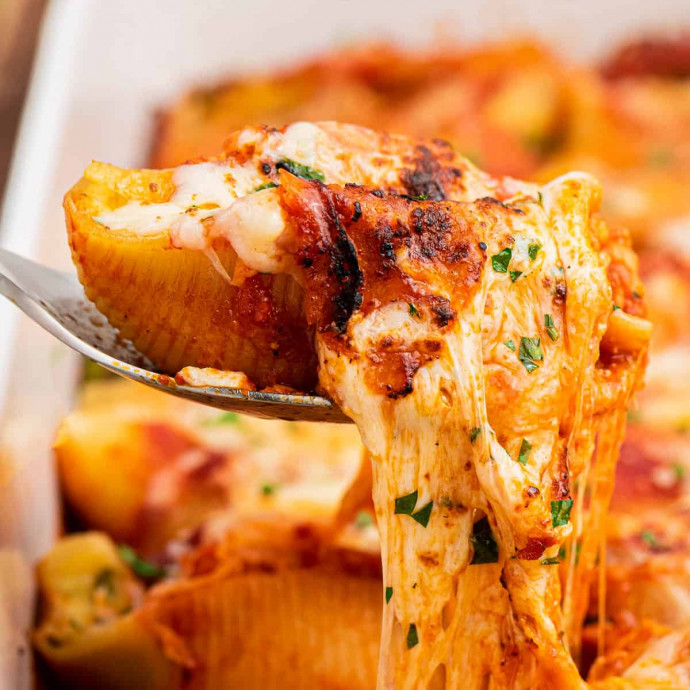 Pasta shells are stuffed with a cheesy ricotta, spinach and garlic filling, then smothered in marinara sauce and mozzarella cheese and baked until bubbly and golden brown!
I'm so glad my love of Italian and Italian-American food has passed along to my kids!
My son's favorite meal ever is lasagna, and these shells are probably a close second (since they have a lot of similar flavors).
Stay tuned for that lasagna recipe coming up in the next couple of months, as well as a lasagna stuffed shells recipe!
But back to these stuffed shells though; they're such a great comfort food.
Plus they can be made ahead in multiple ways and even frozen, which makes this meal perfect for a busy weeknight!
This is a pretty straightforward recipe, but my main tip is to undercook the shells a bit. You want them pliable, but not cooked until al dente. The reason for this is that the shells will continue to cook during the baking process, and you don't want them to end up soggy. All pasta varieties have slightly different cooking times, but I usually use Barilla brand, and I cook mine for 8 minutes.
Ingredients:
24 oz jar marinara sauce (or approximately 3 cups of homemade sauce)
12 oz box dried jumbo pasta shells
2 Tbsp olive oil
5 cloves garlic minced
5 cups fresh baby spinach leaves roughly chopped
30 – 32 oz whole milk ricotta cheese
1 Tbsp dried Italian seasoning
1 Tbsp fresh minced basil
1 tsp kosher salt
1/2 tsp black pepper
4 1/2 cups shredded mozzarella cheese divided
2 large eggs
3/4 cup grated Parmesan cheese freshly grated is best
minced fresh parsley or basil for garnish (optional)