Vegan Grapefruit Olive Oil Cake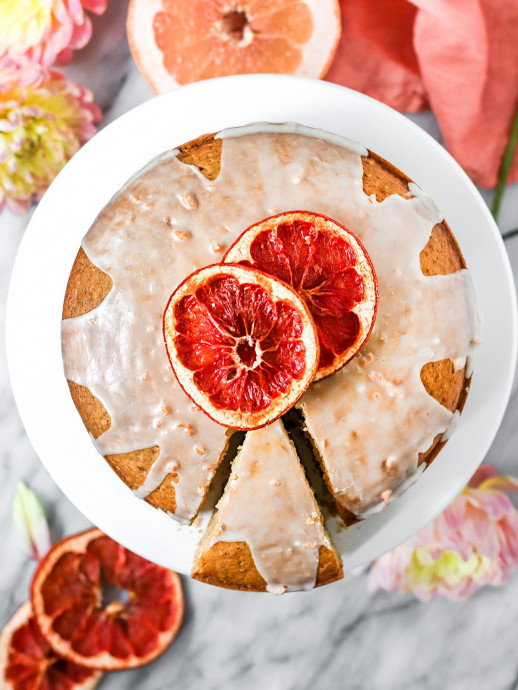 This perfectly tender and incredibly flavorful Vegan Grapefruit Olive Oil Cake is about to be your new favorite vegan cake! It doesn't get much better than a soft, fluffy, & eggless grapefruit cake with grapefruit glaze & dried grapefruit slices on top.
The inspiration for this vegan grapefruit cake recipe came from two places.
First, way back when I went to a cooking-based study abroad program in Italy and we made the most incredible Olive Oil Cake. This recipe was one of my favorites because it was so simple, yet the flavors were so distinct and the cake was so moist and fluffy.
Second, I had been really looking for a way to incorporate Grapefruit into my baking. Given that most olive oil cakes are paired with lemon or orange, grapefruit felt like the perfect way to spruce up a traditional Italian olive oil cake. Even if you aren't Grapefruit's biggest fan, I promise you will love the way it pairs with the olive oil in this delicious cake!
Ingredients:
¾ cup almond milk
¾ cup sugar
½ cup freshly squeezed grapefruit juice strained (about 1 grapefruit, freshly squeezed and strained to exclude flesh/seeds)
½ cup olive oil
2 teaspoons vanilla bean paste or vanilla extract
2 teaspoons grapefruit zest
2 cups+ 2 Tablespoons pastry flour or cake flour
1 teaspoon salt
1 teaspoon baking soda
¼ teaspoon baking powder
Grapefruit Glaze
½ cup powdered sugar
1 Tablespoon grapefruit juice
1 teaspoon grapefruit zest