Chicken Fricassee Recipe – One Pan!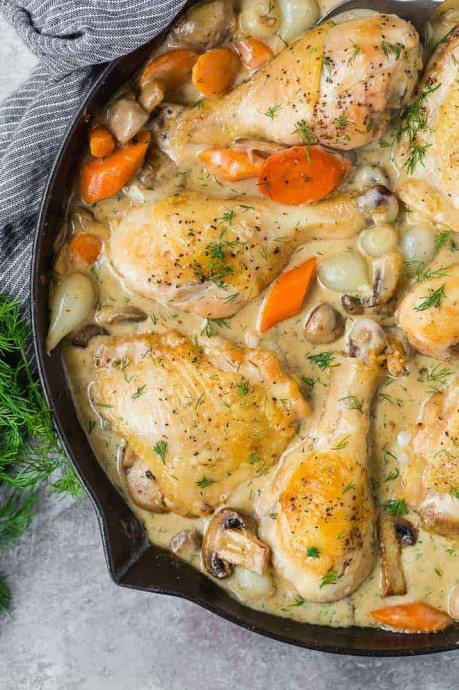 With creamy white wine sauce and a medley of chicken, carrots, mushrooms and pearl onions, this classic chicken fricassee recipe is certain to become a favorite.
I love it because it's so good! Tender chicken, gently cooked in a delicious creamy wine sauce, with carrots, mushrooms and sweet pearl onions, flavored with a splash of lemon and fresh dill. Yum!
I'm sure you'll love this chicken fricassee recipe as much as I do. Prepare it for a family dinner or serve it to company; it's both homey and elegant.
Ready for the sauce? Pour in chicken broth and white wine. Stir well, and then nestle the chicken pieces right into the vegetables and sauce. Pop the whole pan into the oven to finish cooking the chicken. This is the braising part.
When the chicken is finished cooking, remove the skillet from the oven (don't forget to use a hot pad for that handle) and take the chicken out of the skillet. Over medium heat, simmer the sauce and vegetables until the sauce has thickened up a bit, then stir in 1/2 cup cream, a squeeze of lemon, and fresh dill.
Ingredients:
1 tablespoon olive oil
3 pounds bone-in chicken thighs and drumsticks
1 teaspoon kosher salt, divided
1/4 teaspoon coarse ground black pepper
1 cup pearl onions (about 8 oz)
2-3 carrots, peeled and cut in 3/4-inch slices
8 ounces mushrooms, washed and cut in half or quartered
1 clove garlic, minced
1 tablespoon unsalted butter
2 tablespoons all-purpose flour
1/2 cup dry white wine such as Chardonnay or Sauvignon Blanc
1 1/2 cup reduced sodium chicken broth
1 tablespoon freshly squeezed lemon juice
1/2 cup heavy cream
3 tablespoons minced fresh dill 1 or 2 teaspoons dried dill weed