Oatmeal Toffee Cookies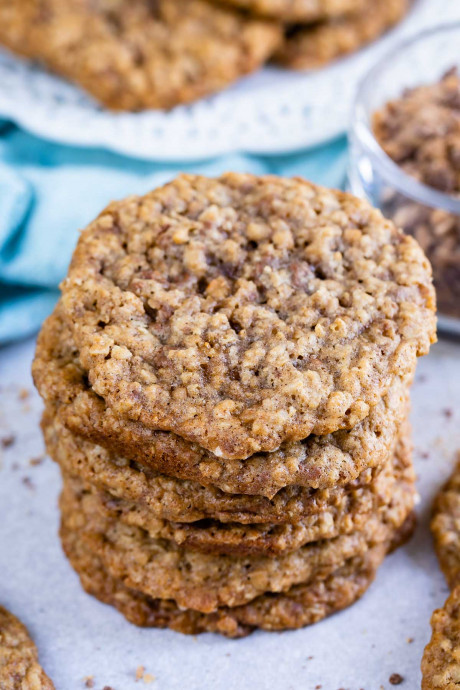 Oatmeal Toffee Cookies are soft and chewy cookies with toffee in every bite! This is an easy recipe and a great twist on classic oatmeal cookies. They were a huge hit in our house!
If you're a fan of soft and chewy oatmeal cookies, I am very excited to share these toffee oatmeal cookies with you! I pretty much haven't met an oatmeal cookie I don't like, and these toffee cookies are a new favorite.
For this recipe, I took a traditional oatmeal cookie and added toffee bits. I love toffee, and combining them with a hearty oatmeal cookie is about the best thing ever.
They have the best texture – soft and chewy. Is there anything better? You can use toffee bits or chopped toffee candy bars. I'm sharing a few options so you can make either heat bits or brickle oatmeal cookies.
These are great for stocking the cookie jar, or you can freeze a batch to have on hand for later.
Move over, raisins, because these chewy oatmeal toffee cookies are pretty amazing!
Toffee oatmeal cookies will keep in an airtight container for up to four days.
They are also freezer-friendly! Place them in a freezer bag or container, and they will keep well frozen for up to two months.
You can use Heath toffee bits to make heath oatmeal toffee cookies or try Bits o' Brickle. Try the ones coated in chocolate or the plain ones.
You can make oatmeal Skor cookies by subbing the toffee bits for chopped Skor candy bars. Or make oatmeal Heath bar cookies with chopped-up Heath bars.
Recipe Variation: Reduce the toffee bits to one cup and add a half cup of chopped pecans or shredded sweetened coconut for a new twist!
Ingredients:
1 cup (226g) unsalted butter, softened
1 cup (200g) packed brown sugar
½ cup (100g) granulated sugar
2 large eggs
1 teaspoon vanilla extract
1 teaspoon baking soda
1 teaspoon salt
2 teaspoons ground cinnamon
1 ¾ cups (217g) all-purpose flour
3 ¼ cups (289g) quick cooking oats
1 ½ cups toffee bits