Roasted Butternut Squash and Blackberry Harvest Salad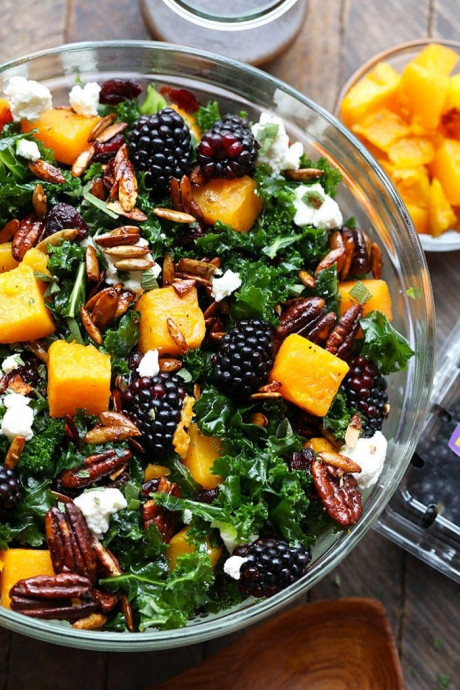 This gorgeous Roasted Butternut Squash and Blackberry Harvest Salad is a Fit Foodie Finds reader favorite that's fall-inspired and so flavorful. It's made with roasted butternut squash, candied nuts, blackberries, and massaged kale with a homemade dressing!
Talk about the most perfect harvest salad you've ever seen. It's sweet and savory at the same time and is made with the most delicious roasted butternut squash you've ever had.
I love me a good harvest salad because they're packed with seasonal ingredients, are filling, and packed with so much good nutrition. Every great salad starts with a yummy green base. We love using kale in the fall/winter because it's hearty and abundant at most grocery stores.
While you can use any store-bought balsamic dressing in this salad, I highly suggest whipping up your own homemade balsamic vinaigrette.
Ingredients:
Kale
10-oz. kale, deboned and chopped
2–3 tablespoons olive oil
1/2 teaspoon salt
Roasted Butternut Squash
1/2 butternut squash (24 ounces), cubed
1.5 tablespoons olive oil
salt, to taste
pepper, to taste
Candied Nuts and Seeds
1 cup raw pecans
1/3 cup raw pumpkin seeds
1.5 tablespoons maple syrup
1/8 teaspoon sea salt
Balsamic Dressing
1 teaspoon dijon mustard
1 tablespoon maple syrup
2 tablespoons balsamic vinegar
2 tablespoons olive oil
1/8 sea salt
Other Salad Ingredients
2 6-oz. packages Driscoll's blackberries
1/4 cup goat cheese
1/4 cup dried cranberries