Roasted Beet, Quinoa, and Carrot Salad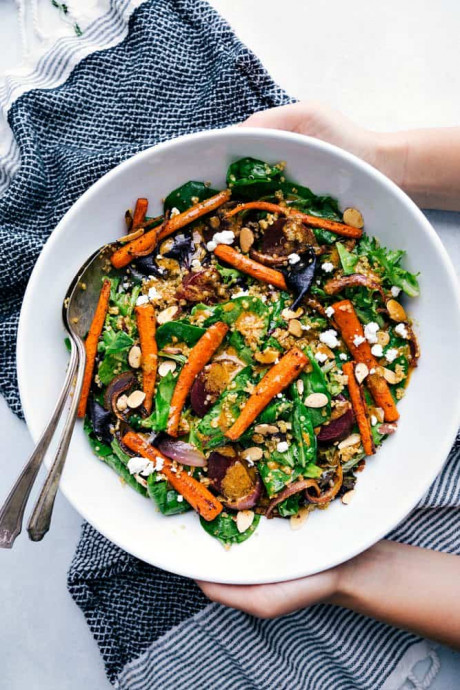 This roasted beet, quinoa, and carrot salad is packed with healthy and good-for-you ingredients! It's super flavorful and has the best lemon dressing!
After a heavy meal or a few days of eating less healthy than you might like, this is the perfect salad to get you back on track and make you feel great. Root veggies (beets and carrots) help regulate blood sugar levels in the body, which is especially important if you have type 2 diabetes. They also are very high in fiber, vitamin B, vitamin C, and antioxidants.
Quinoa is very nutritious —it's full of fiber, protein, vitamins, and minerals. From purely a calorie perspective: one cup of cooked quinoa has approximately 40 fewer calories than an equal amount of white rice.
Lemon (in the dressing): this citrus is linked to being helpful in preventing anemia and kidney stones. It's also theorized to help with weight control and improving digestive health
Almonds: these nuts are packed with vitamins, minerals, fiber, and protein.
Ingredients:
1 pound medium beets
1/2 pound medium carrots
3 tablespoons olive oil, separated
Fine sea salt and freshly cracked black pepper to taste
4 ounces mixed greens lettuce
1 cup quinoa (uncooked)
1/3 honey roasted sliced almonds
1/3 cup crumbled goat cheese
Lemon Vinaigrette
4 tablespoons red wine vinegar
1 and ½ tablespoons dijon mustard do not use regular mustard
1/2 teaspoon dried oregano
1 teaspoon dried basil
1 clove garlic minced
1/2 cup olive oil
1 large lemon 3 tablespoons juice