Apple Galette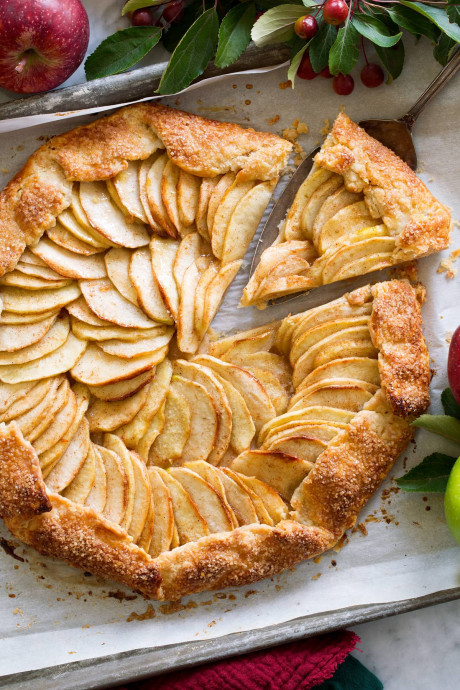 Apple Galette – A buttery pie-style crust is layered with plenty of sweetened fresh apples and then baked until the fruit is tender and the crust is beautifully golden brown and supremely flakey. It's one of the absolute best fall desserts!
This variation is what I would call an easier alternative to a classic pie. It is basically the humbler, more rustic version of apple pie yet it transcends expectations and is a treat for the eyes with it's thin slices, browned edges and pleasing circular pattern.
You'll appreciate that there's nothing too fancy and complicated, just an old fashioned, made-by-hand method to achieve the dreamiest fall dessert!
Serve it warm with vanilla ice cream for the most enjoyable pairing and sublime flavor!
Just imagine it, a crisp and flaky, truly unbeatable crust finished with a crunchy coarse sugar. Then blanketed over are tender, lightly tart, warmly cinnamon spiced apples. And it's all crowned with rich, creamy, sweet vanilla ice cream.
Talk about tempting! If only it could pass for a decent breakfast I'd be eating it everyday.
Ingredients:
1 1/2 cups (214 g) unbleached all-purpose flour (scoop and level to measure)
1 Tbsp (11 g) granulated sugar
1/4 tsp salt
10 Tbsp (142 g) unsalted butter, cut into 1/2-inch cubes
4 to 5 Tbsp ice water
Filling
1 1/2 lbs (3 large) baking apples*
1/4 cup (50 g) granulated sugar**
1/2 tsp ground cinnamon
2 Tbsp (28 g) unsalted butter, diced into 1/4-inch cubes
Finish
1 large egg + 1/2 Tbsp water
1 Tbsp (11 g) turbinado sugar or sparkling sugar
1 Tbsp honey or 1 1/2 Tbsp apricot preserves heated with 1/2 tbsp water and strained (optional)