Chicken and Bacon with Sun-Dried Tomato Cream Sauce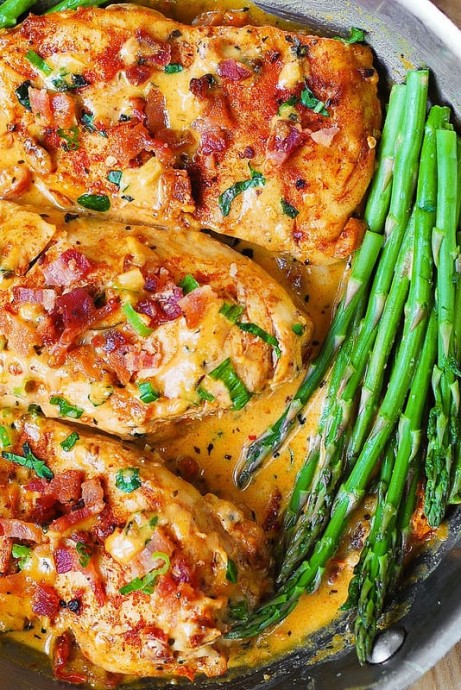 Chicken and Bacon with Sun-Dried Tomato Cream Sauce – delicious chicken breasts topped with bacon and smothered in a creamy sauce. Gluten free, low carb, high protein, keto friendly recipe. Perfect if served with asparagus!
This recipe is no exception. Chicken breasts and bacon combine beautifully with the creamy cheesy sauce made with garlic, sun-dried tomatoes, basil, shredded Mozzarella cheese, and cream. So good! The chicken is moist and tender! What to serve with this chicken and bacon dish? What would go great with the sun-dried tomato cream sauce? I suggest serving steamed or roasted veggies, such as asparagus and broccoli. Also, cooked spinach or cooked green beans would be great. Below are some recipe suggestions.
This is keto friendly recipe. Chicken breast is low carb and high in protein. Bacon is low carb and has a high fat content. Sun-dried tomato cream sauce is low carb and high in fat. There are hardly any carbs in this recipe, and it tastes so good – like something you would order from a good restaurant! Enjoy!
Ingredients:
Chicken Breasts
4 garlic cloves minced
6 oz sun-dried tomatoes in oil in a jar
salt
2 tablespoons olive oil either from the jar of sun-dried tomatoes, or just use olive oil
1/4 teaspoon paprika
2 lb chicken breasts large, halved horizontally
Cream Sauce
1 cup heavy cream
1 cup milk
1 cup mozzarella cheese shredded
salt and pepper to taste
1 teaspoon dried basil
1/4 teaspoon crushed red pepper flakes at least, add more to taste
8 strips bacon cooked and crumbled