Easy Pork Fried Rice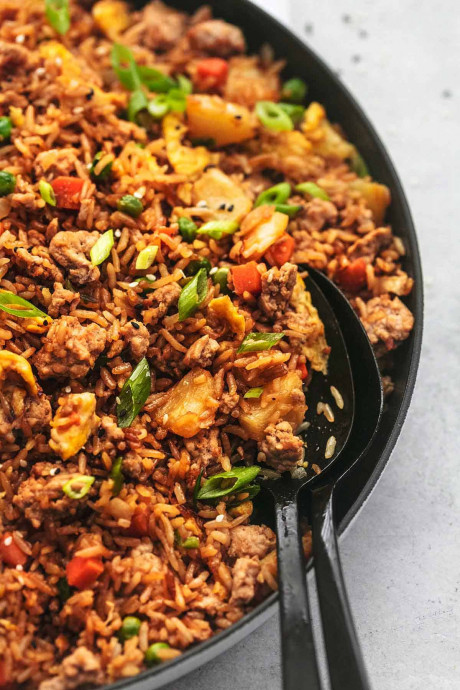 What do you get when you combine ground pork, rice, a bunch of veggies, Asian spices, eggs, pineapple and more? The most delicious 20-minute pork fried rice ever of course!
I don't cook with ground pork enough. I am not sure why that is but it's sooooo very good, especially in fried rice! Plus, it cooks up more quickly than other cuts of pork, so if you are thinking fried rice in a hurry, ground pork is definitely your best bet, especially in this one that also contains pineapple chunks. It serves as just the perfect amount of sweet to balance out all the other savory flavors.
A lot of the flavor in fried rice comes from the oil you use to "fry" it in. I prefer to use sesame oil because it has a nice nutty, yet neutral flavor, which means that it can absorb all the other flavorings like garlic, ginger, red pepper flakes, and soy sauce.
Ingredients:
1 pound ground pork
4 cups cooked white rice
¼ cup sesame oil
½ white onion - diced
⅓ cup soy sauce
½ teaspoon garlic powder
¼ teaspoon ground ginger
¼-½ teaspoon crushed red pepper flakes
1 cup frozen peas and carrots
6 green onions - chopped
3 eggs - whisked
1 cup pineapple chunks