The Ultimate Paleo Avocado Chicken Salad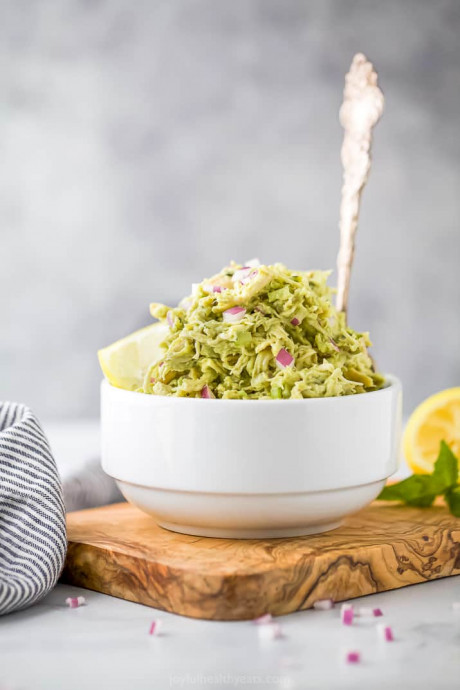 This Paleo Avocado Chicken Salad is a creamy and healthy chicken salad that's mayo free. Learn how to make this low-carb chicken salad with avocado. It's packed with flavor and perfect for meal prep!
Honestly, I think it depends on what you like or what your dietary needs require. Here are a couple of ideas of how to eat chicken salad: Bread or Pita– use it on top of toasted or plain bread and pita. Lettuce Cup – add a scoop of chicken salad to your lettuce cup and eat it like a taco. Apple Slices – instead of bread, serve chicken salad on apple slices. Cucumber Slices – add chicken salad to a bowl and use cucumber slices as a chip or cracker. Tomato – serve chicken salad inside a hollowed out tomato or on top of tomato slices. Crackers – enjoy scoops of the chicken salad with crackers. Plain – eat your avocado chicken salad straight from the container. It is tasty enough to do this!
Store your chicken salad in an air tight container in the refrigerator. It will last from 3 to 5 days. After that it will start to change color and or get soggy. This chicken salad will not freeze well so I recommend eating it in the allotted time frame.
Ingredients:
1 tablespoon avocado oil
1 lb. boneless skinless chicken breast
salt and pepper to season
2 avocados, mashed
1/3 cup finely diced celery
1/3 cup finely diced red onion
3 tablespoons dijon mustard
2 tablespoons lemon juice
2 tablespoon fresh basil, chopped
1/2 teaspoon cumin
1/2 teaspoon garlic powder