Chocolate Biscotti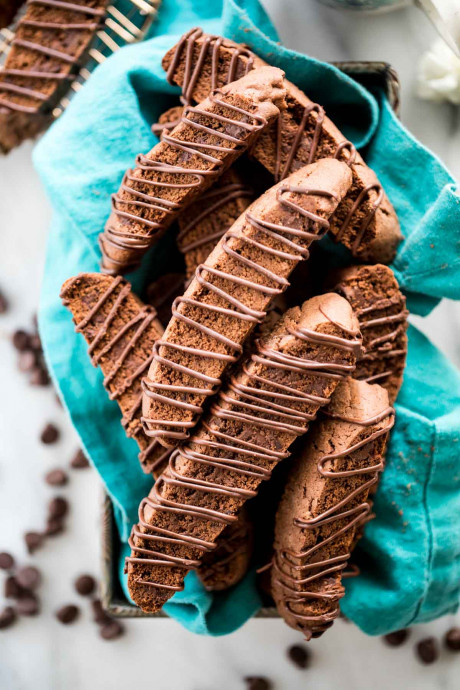 This easy-to-follow recipe makes perfectly crisp chocolate biscotti cookies studded with two types of chocolate chips. You can customize this recipe with your favorite add-ins, like nuts, dried fruit, or even white chocolate.
These twice-baked chocolate biscotti cookies are tougher than your average cookie without being too tough, nor are they too sweet (though they are more indulgent than the traditional biscotti I shared earlier in the week).
Today's version is double chocolate, a chocolate cookie base studded with lots of chocolate chips. While they could certainly be enjoyed as a dessert dunked in milk, these chocolate biscotti make a wonderful complement to your morning coffee; because really, who doesn't love chocolate for breakfast?
Ingredients:
12 Tablespoons unsalted butter softened (170g)
1 ⅓ cups granulated sugar (265g)
3 large eggs room temperature preferred
2 teaspoons vanilla extract
2 ¾ cups all-purpose flour (345g)
½ cup natural unsweetened cocoa powder (50g)
1 Tablespoon baking powder
¾ teaspoon table salt
½ cup semisweet chocolate chips (85g)
⅔ cup mini chocolate chips (113g)