Blackberry Lime Fruit Salad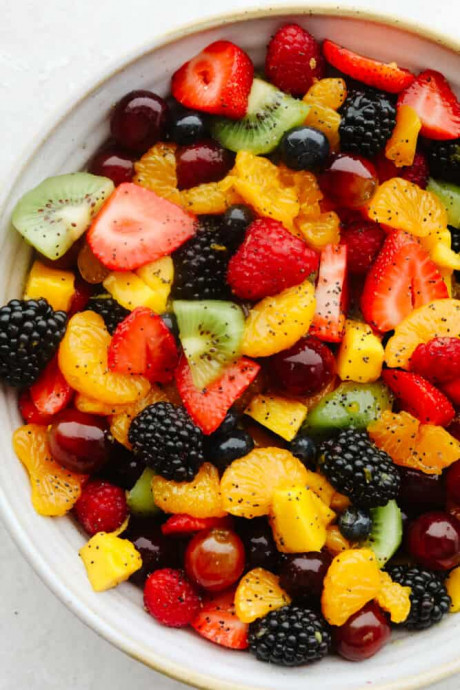 Blackberry Lime Fruit Salad showcases tons of fresh, summer fruit and has a delicious easy dressing. Refreshing, light, and sweet, this fruit salad will be eaten in no time!
A good dressing can really work to enhance and bring together different flavors cohesively. My poppyseed, honey lime, and creamy grape are prime examples of how dressing can make a fruit salad pop!
This blackberry lime fruit salad is chock-full of delicious fruits and has a sweet and tangy dressing drizzled on top. I absolutely love summer fruits, and this salad highlights each of them perfectly while adding a tart and nutty finish with the dressing! It is so simple to make and the combination is sweet, tangy and just right. This fruit salad is a the perfect combination!
Only requiring a few fresh ingredients and less than 10 minutes to throw together, this blackberry lime fruit salad recipe is as easy as they come! Perfect for a healthy, refreshing snack on a hot day, or to make in bulk for a potluck crowd-pleaser! This salad has my ultimate favorite line-up of fruits in a salad, but know that the fruit can be easily changed out and swapped for whatever you like best. As long as the quantities remain pretty consistent and you've got plenty of variation, this salad will be a hit!
Ingredients:
Dressing
1/4 cup orange juice
1 teaspoon orange zest
juice and zest from one lemon
juice and zest large lime
1/4 cup honey
1 teaspoon vanilla extract
1 teaspoon poppyseeds
Salad
1 (15 ounces) can mandarin oranges, thoroughly drained
2 cups fresh strawberries hulled and sliced
3 medium kiwis peeled, halved, and sliced
1 cup seedless grapes
1 cups blueberries
2 large mangoes peeled and diced
1 cup blackberries
1 cup raspberries