Pear Tart with Gorgonzola, Caramelized Onions and Pecans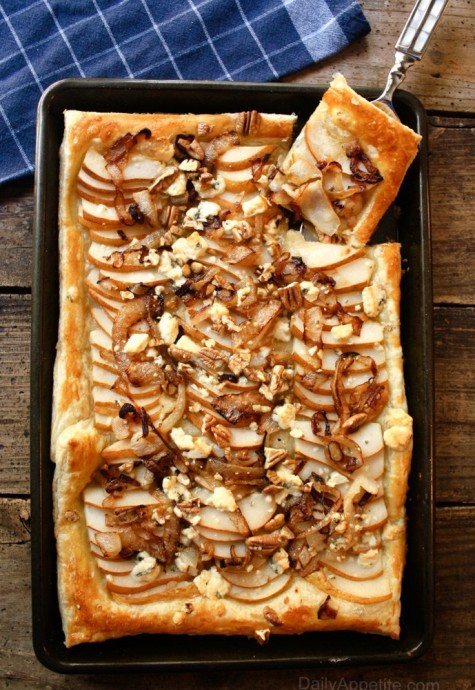 Pear Tart with Gorgonzola cheese, Caramelized Onions, and Pecans is pure pearfection! The Fall flavors complement each other giving the pear tart a sweet and savory taste. The golden-brown puff pastry serves as the delectable vessel with all mouthwatering ingredients.
The sweetness of the pears and caramelized onions matched with the distinct bold flavor of the Gorgonzola cheese and the soft crunch of the pecans on a fluffy golden puff pastry is the best thing you will put in your mouth this Fall. The flavors complement each other perfectly in this one of a kind savory breakfast or lunch! I played a bit with the recipe, rolling the dough out more thinly, reducing the amount of onions and cheese, so the serving pieces would be easier to hold and work better as appetizers.
The recipe is simple. The hardest part of this pear tart recipe is the slicing of the pears. To cut the pears, I slice off the top to remove the stem. I then slice the pear in half. I take a melon baller and scoop out the center with the seeds. Lay the 2 slices of pears flat and slice. This baby was an instant winner in the test kitchen. No recipe tweaks needed. You will want to serve it immediately.
Ingredients:
1 2/3 sheets of ready to bake puff pastry sheets. Should roughly fit a 8 1/2 x 11 1/2 baking sheet.
1 egg
4-5 pears seeds removed and sliced.
1 medium onion sliced
1 Tbs butter
3 oz. Gorgonzola cheese crumbled
1/4 cup pecans chopped