Pozole Verde de Pollo (Chicken Posole)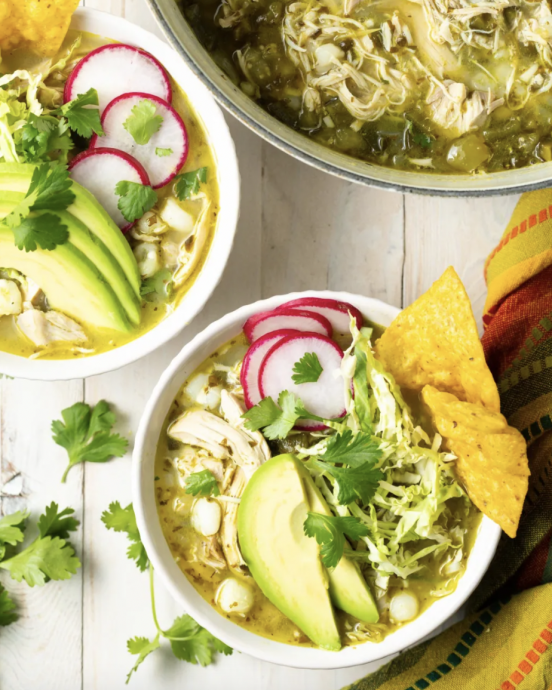 Pozole Verde de Pollo – An easy Chicken Posole Recipe featuring hominy, poblano peppers, and fresh tomatillos for a bold, flavorful green chicken stew.
Green Chicken Pozole, also known as Chicken Posole, is a classic Mexican dish made with hominy. If you aren't familiar, hominy is dried corn kernels that have been treated with lye to become swollen and tender, so they have the texture of little dumplings. Together, the chicken and hearty hominy make an incredibly comforting and satisfying chicken stew.
There are many reasons why you will love this chicken stew… Not only is it delicious, but it's also a one-pot recipe that is ready in just over an hour.
Our version of Chicken Posole uses a great balance of pantry staples and fresh ingredients that are easy to find to create a complete meal in a bowl – with barely any effort!
Plus, Pozole Verde is a gluten-free dish that's terrific for customizing. Feel free to make your chicken stew as mild or spicy as you like, and serve with any number of your favorite toppings.
Ingredients:
2 tablespoons olive oil
1 large sweet onion peeled and chopped
6-8 cloves garlic minced
6 poblano peppers seeded and chopped
2-3 jalapeno peppers seeded and chopped (optional for heat)
½ cup chopped cilantro
3 pounds boneless chicken thighs
1 ½ pounds tomatillos peeled and quartered
2 bay leaves
1 tablespoon dried oregano
6 cups chicken broth or water
2 – 15 ounce cans white hominy drained and rinsed
Salt and pepper
Garnishes: tortilla chips, shredded cabbage, lime wedges, sliced avocado, sliced radishes, chopped cilantro