Banana Cookies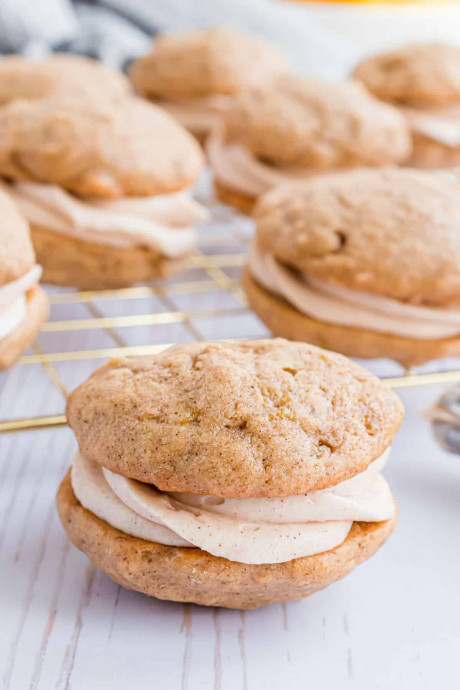 Soft, chewy Banana Cookies are a family classic. Filled with a cinnamon cream cheese frosting, you'll love the banana flavor in these whoopie pies! Or serve with frosting and nuts! Whoopie Pies are a northeaster classic. They're made by combining TWO soft cookies (or tender cakes) with a creamy filling!
Are they brownies or cookies? Or maybe they are cake?
Technically, Oatmeal Cream pies can be classified as a whoopie pie. I've even got a chocolate oatmeal cream pie recipe too!
Today I whipped up some delicious, moist whoopie pies. Or Banana cookies!
Can be served as a banana cookie, or as a whoopie pie.
Cinnamon cream cheese frosting in the filling.
Top with nuts, if desired.
Freezer friendly!
Any way that I can add frosting to my desserts, I'm 100% on board with. I hope you'll join me.
Ingredients:
For the cookie:
½ cup unsalted butter, softened
½ cup light brown sugar, packed
½ cup granulated sugar
¼ cup sour cream
2 large ripe bananas, smashed
1 teaspoon vanilla
1 large egg
2½ cups all-purpose flour
1½ teaspoon cinnamon
½ teaspoon baking soda
½ teaspoon baking powder
½ teaspoon kosher salt
For the frosting:
4 ounce cream cheese, softened
2 Tablespoons unsalted butter, softened
½ teaspoon vanilla extract
2 teaspoons milk
½ teaspoon cinnamon
2 cups powdered sugar