Texas Sheet Cake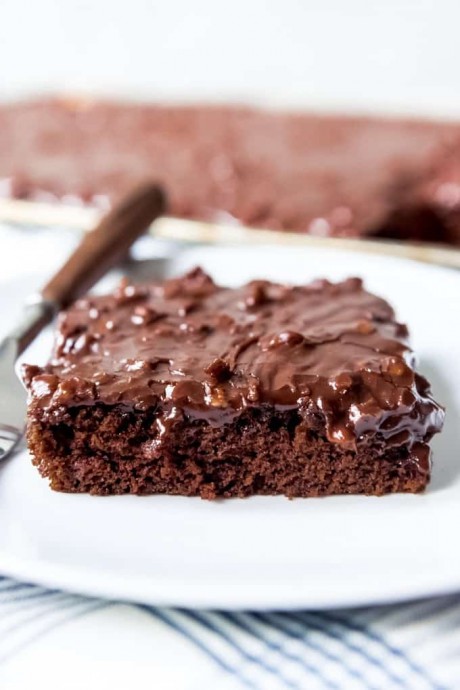 This chocolate Texas Sheet Cake recipe is a potluck favorite that is baked in a single sheet pan! The light and fluffy cake base is topped with a poured chocolate icing that you can make with or without pecans for extra texture and crunch!
If you're looking to feed dessert to a crowd at your next family gathering or potluck, look no further than this Texas sheet cake recipe! A Texas chocolate sheet cake is a large flat cake baked in a baking sheet. It's a slightly dense, rich chocolate cake that is bordering on being brownie-like in texture.
Typically, Texas sheet cake isn't as strongly chocolatey as other chocolate cakes, which gives it a unique flavor all it's own and let's the tanginess of the buttermilk shine through a bit more. I add slightly more cocoa powder than classic Texas sheet cake recipes, because that's how I like it, but I don't go so far as to overwhelm the classic taste of Texas sheet cake by turning it into just another standard chocolate cake. When you cut the cake into squares for serving, you'll notice that you can easily cut it to feed a dozen people or more, depending on how large you cut your squares.
While Texas sheet cake tastes great warm, it can also be served at room temperature, so it's perfect as a make-ahead dessert. Just be sure to cover it well so that it doesn't dry out.
Ingredients:
Cake
2 cups all-purpose flour
2 cups granulated sugar
1 teaspoon baking soda
1/2 teaspoon salt
1 cup water
1 cup salted butter
6 Tablespoons unsweetened cocoa powder
1/2 cup buttermilk*
2 large eggs
1 teaspoon vanilla extract
Chocolate Glaze
6 tablespoons milk
4 tablespoons unsweetened cocoa powder
1/2 cup butter
3 1/2 cups powdered sugar
1/2 teaspoon vanilla
Pinch of salt
3/4 cup chopped toasted pecans or walnuts, finely chopped