Healthy Baked Oatmeal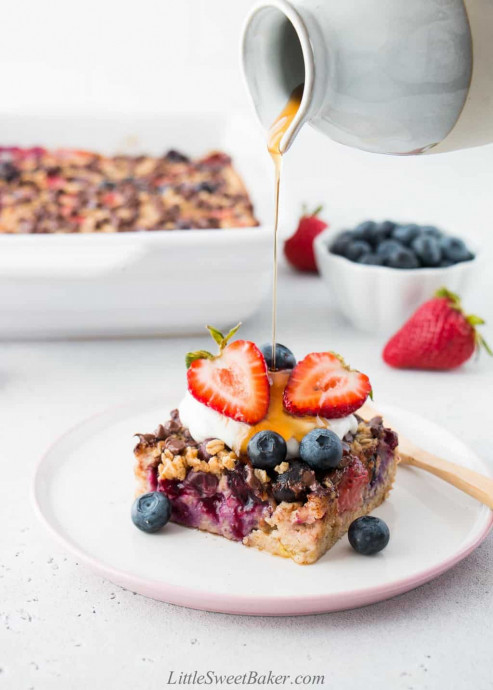 This healthy baked oatmeal is soft, chewy, and packed with flavor. It's loaded with nutritious, wholesome ingredients and is a great way to start your day!
Baked oatmeal is a casserole dish often eaten for breakfast. It consists of oats baked in milk, eggs, and sugar. It's similar to bread pudding but instead of bread, you're using rolled oats.
Why you should make this recipe: Easy to make – This one-bowl baked oatmeal recipe is so easy and versatile. You just mix everything together in one bowl and bake. You can also add any of your favorite mix-ins or toppings you have on hand.
Healthy and nutritious – It's naturally gluten-free and made with no refined sugar. It's warm and satisfying. Serve it with some Greek yogurt or nut butter for added protein and you have a wholesome meal. Tastes great – This baked oatmeal tastes anything but healthy. It's like banana bread meets an oatmeal cookie in one delicious casserole. It's bursting with fresh juicy berries and a hint of cinnamon and maple. Top it with a few chocolate chips, a spoonful of yogurt, and an extra drizzle of maple syrup like I did, and it's actually quite decadent.
Ingredients:
2 cups quick or old-fashioned oats
1/2 tsp ground cinnamon
1 cup milk
2 large eggs
1/4 cup maple syrup or honey
1 ripe mashed banana
1/2 tsp vanilla extract
1 cup blueberries
1 cup diced strawberries
Optional toppings
1/4 cup chocolate chips, chopped nuts, or shredded coconut