Carrot Cake Baked Oatmeal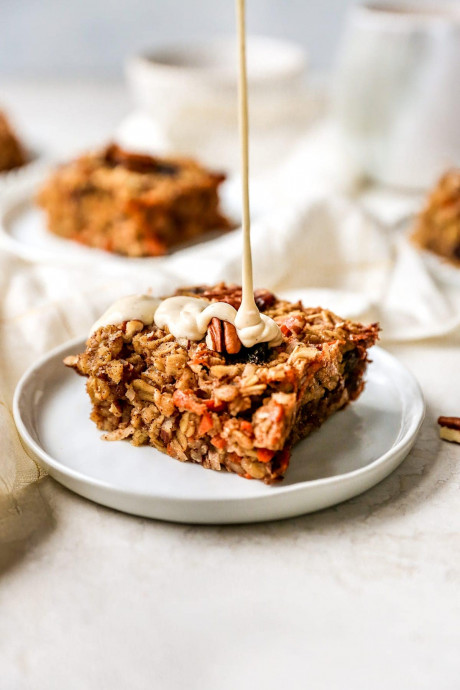 Carrot Cake Baked Oatmeal-this easy baked oatmeal recipe is healthy enough for breakfast and tasty enough for dessert! Drizzle with cream cheese maple glaze and you will think you are eating a piece of carrot cake. It's SO good!
This baked oatmeal tastes JUST like carrot cake. It has all of the same flavors, spices, and the maple cream cheese glaze makes is a MUST! Breakfast that tastes like cake? YES!!! Sign me up!
You'll find yourself cutting off slices for snacks and dessert, not just for breakfast. This oatmeal recipe is kid-approved by my boys, and I think it's perfect for springtime and especially Easter. This list might look long, but most of the ingredients are items you already have in your pantry! I always have these items on hand and it's a good thing because the boys are always begging for this oatmeal, it's their favorite! If you want to make the baked oatmeal in muffin cups instead of a pan, just shorten the baking time. Check on them after about 20 minutes and pull them out when they're golden brown! This is a great way to freeze Carrot Cake Baked Oatmeal or have it as an extra-portable option on the go.
Ingredients:
For the baked oatmeal:
2 cups old fashioned oats
1 cup grated carrots (2 medium carrots)
1/2 cup shredded coconut
1/3 cup packed light brown sugar
2 teaspoons ground cinnamon
1 teaspoon baking powder
1/2 teaspoon ground ginger
1/2 teaspoon salt
1/4 teaspoon ground nutmeg
2 cups unsweetened vanilla almond milk, or milk of your choice
4 tablespoons unsalted butter, melted and cooled to room temperature
1 large egg
2 teaspoons vanilla extract
¼ cup raisins, optional
1/3 cup chopped pecans or walnuts, optional
For the maple cream cheese glaze:
4 oz cream cheese, at room temperature
3 tablespoons pure maple syrup
¼ teaspoon pure vanilla extract