Vegetarian Pumpkin Chili with Cornbread Croutons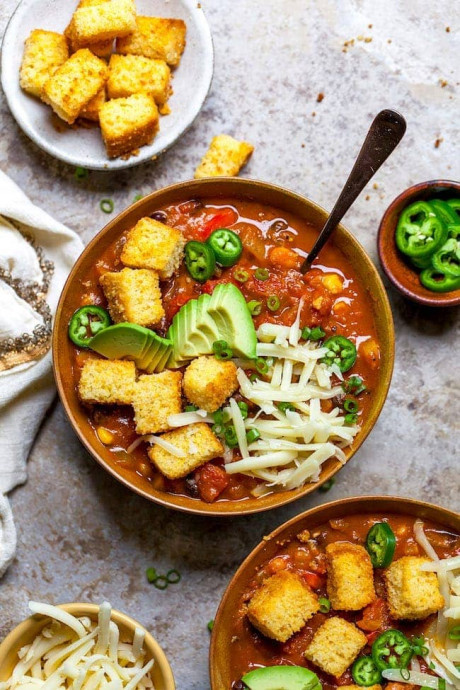 This savory Vegetarian Pumpkin Chili has everything you want in a chili: tomatoes, peppers, black beans, pinto beans, corn, and a little pumpkin in there to make it perfect for fall!
No one will even believe there's pumpkin mixed in, and the flavor is incredible. This is a pumpkin chili recipe I would use for a game day, as an easy weeknight dinner, or to have warm on the stove for Halloween night! I like to make homemade cornbread croutons to top things off, they aren't required, but SO good! They take the pumpkin to a whole new level. Our family looks forward to this chili recipe every single year. It is a fall staple at our house. I love having a big pot of chili simmering on my stove. Nothing feels quite so cozy! Once you have your ingredients gathered, this Pumpkin Chili comes together quickly, making it a slam-dunk weeknight meal that everyone in your house will love.
Ingredients:
For the Chili:
1 tablespoon olive oil
1 medium onion, chopped
1 red pepper, seeds removed and chopped
1 yellow pepper, seeds removed and chopped
3 cloves garlic, minced
30 oz fire roasted tomatoes
15 oz can black beans, rinsed and drained
15 oz can pinto beans, rinsed and drained
15 oz can pumpkin puree (not pumpkin pie filling)
1 cup vegetable broth
1 cup frozen roasted corn, we use fire roasted
1 tablespoon chili powder plus 1 teaspoon
1 tablespoon cumin
1/2 teaspoon smoked paprika
1 teaspoon kosher salt
½ teaspoon black pepper
Toppings:
Shredded cheese
Sliced avocado
Sliced green onion
Jalapeno slices
For the Cornbread Croutons:
4 cups day old cornbread, cut into 1-inch cubes
1 tablespoon olive oil
Kosher salt, to taste