Lemon Blueberry Cake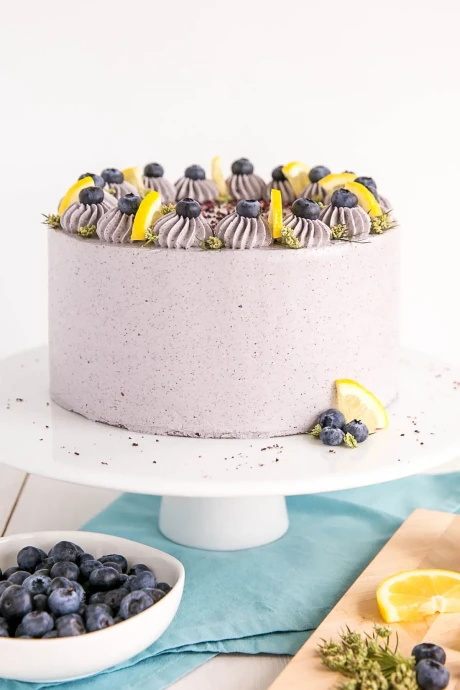 A double dose of blueberries and lemon in this amazing Lemon Blueberry cake! A moist and delicious lemon cake with fresh blueberries and a blueberry buttercream.
Blueberries are my favorite berries. Their flavor is delicious, they don't have any pesky seeds to deal with, and the color is just SO pretty.
This Lemon Blueberry Cake is another one that's been a long time in the making — I just never got around to it. But I wanted something pretty, light, and delicious for spring, so I thought it would be perfect.This blueberry buttercream is a new favorite and I LOVE how the color turned out. Lemon Blueberry Cake is often paired with a cream cheese frosting, but I wanted something a little different.
I used freeze-dried blueberries to color and flavor the buttercream. This is the BEST way to get berry flavor into your buttercreams without having to worry about affecting the texture.
I pulverized them into a fine powder using a coffee grinder, but if you can buy the freeze-dried berry powder instead, that would be easier.
I've used freeze-dried berries before in this Strawberry Cake and the result was amazing — both in flavor and color!
Ingredients:
Lemon Blueberry Cake:
2 1/2 cups all-purpose flour
2 tsp baking powder
1/2 tsp salt
3/4 cup unsalted butter room temperature
1 Tbsp lemon zest from one large lemon
1 1/2 cup granulated sugar
3 large eggs room temperature
1 tsp vanilla
1/2 cup milk room temperature
1/4 cup lemon juice fresh squeezed, from one large lemon
1 cup blueberries heaping, coated in 1 Tbsp flour
Lemon Syrup:
1/4 cup lemon juice
1/4 cup granulated sugar
Blueberry Swiss Meringue Buttercream:
6 large egg whites
1 1/2 cups granulated sugar
2 1/2 cups unsalted butter room temperature
2 tsp vanilla
1/4 cup freeze-dried blueberry powder one package (1.2oz) ground up
Assembly:
blueberries
lemon sliced