Blueberry Granola Whole Wheat Muffins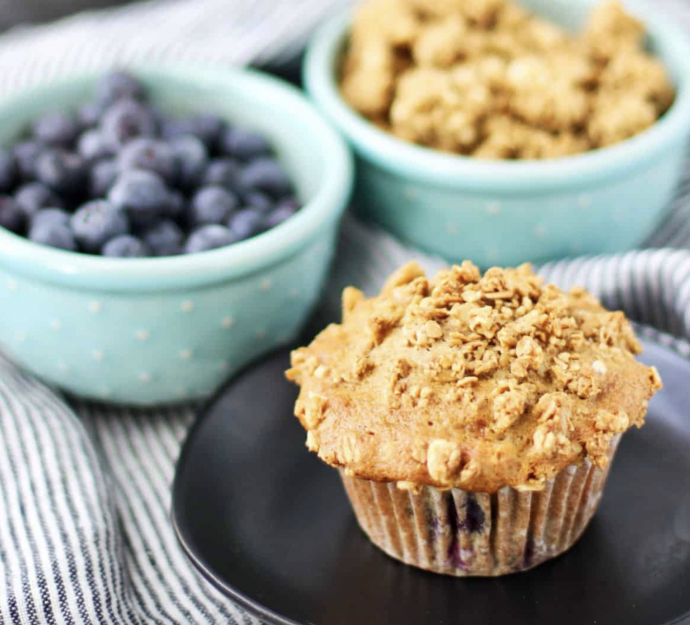 Filled with blueberries, crunchy granola, and whole wheat flour, these muffins will carry you through the morning.
The ingredients for these muffins can be pulled together in just a few minutes and you will have warm, freshly baked muffins with a crunchy top and and juicy bursting blueberries for breakfast.
First, whisk together the flours, baking powder, baking soda, and salt together in a medium bowl. Stir in half of the granola. Next, in a small bowl, whisk together the buttermilk, brown sugar, egg, vegatable oil, and vanilla together. After that, pour the wet ingedients into the flour mixture and stir until just combined. Stir in the blueberries and divide the batter among four standard sized greased or paper lined muffin tins. Top each one with a tablespoon of granola. Finally, bake the muffins at 350 degrees F for about 18 minutes.
Ingredients:
44 grams (1/3 cup) whole wheat flour
43 grams (1/3 cup) all purpose flour
1 teaspoon baking powder
1/4 teaspoon baking soda
Pinch of salt
Pinch of ground nutmeg
1/2 cup granola, divided
1/4 cup buttermilk
1/4 cup packed light brown sugar
44 grams (1 med) egg, whisked
1 tablespoon vegetable oil
1/2 teaspoon pure vanilla extract
1/3 cup blueberries