Key lime Whoopie Pies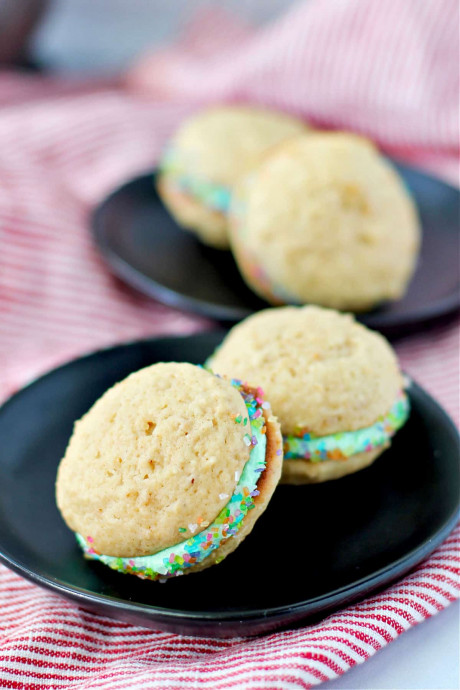 These key lime whoopie pies take the flavors of key lime pie and turn them into these cute little cookie cakes.
These key lime whoopie pies are comprised of a Graham cracker flavored cake filled with a buttercream flavored with the juice of fresh key limes. The little cakes, which sandwich the amazing key lime buttercream, include a secret ingredient... crushed Graham crackers. Just crush them into fine crumbs and add them to the batter before scooping it onto baking sheets for baking.
I love whoopie pies, including chocolate whoopie pies and red velvet whoopie pies. It's like having a slice of cake in cookie form. There are specialty whoopie pie pans with little cavities for baking them, but you really don't need one because the cake batter will mound nicely and bake into perfectly round shapes.
Ingredients:
For the Cakes
420 grams (3 cups) unbleached all purpose flour
1 1/2 teaspoons baking powder
1/2 teaspoon salt
1/2 cup (1 stick) unsalted butter, room temperature
3/4 cup granulated sugar
3/4 cup packed light brown sugar
1 egg, room temperature
2 teaspoons pure vanilla extract
1 cup buttermilk (or 3/4 cup plain yogurt or sour cream plus 1/4 cup milk), room temperature
2 tablespoons honey
3/4 cup finely ground Graham cracker crumbs (I used Nairn's)
Sprinkles to finish the cakes (I used Sweets and Treats)
For the Buttercream
2 cups powdered sugar (plus more if needed) (I used Dixie Crystals)
4 tablespoons (1/2 stick) unsalted butter, room temperature
Pinch of salt
3 tablespoons heavy cream
2 1/2 tablespoons fresh key lime juice
Zest of one lime (optional)