Whole30 Garlic Butter Steak & Potato Skillet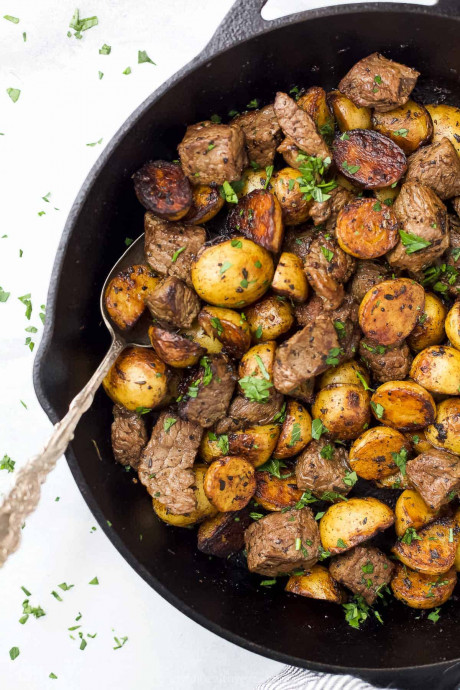 Seasoned with rosemary, thyme, and lots of garlic, this Whole30 Garlic Butter Steak and Potato Skillet comes together in just under 30 minutes! Cubes of sirloin are seared in ghee and garlic, while new potatoes are tossed with fresh herbs for a savory, filling, and easy weeknight dinner.
Craving a hearty meat and potatoes dinner? Then this easy skillet dinner is for you! Cubes of tender sirloin steak seared in mouth-watering garlic butter with baby potatoes and a few fresh herbs… all ready in under 30 minutes! Dinner doesn't get better (or easier) than that!
This is one of my favorite Whole30 recipes to serve when we have guests – especially guests who don't follow Whole30. Steak and potatoes is a dish that everyone seems to love, so you can't really go wrong when you serve it. It's a timeless classic and this skillet recipe just makes it easier than ever to make!
Ingredients:
1.5 lbs. top sirloin, cut into 1" cubes
salt & pepper to season
2 tablespoons ghee
5 cloves of garlic, minced
1 tablespoon rosemary, chopped
1 tablespoon fresh thyme
1 lb. new potatoes, halved