Mont Blanc Chestnut Dessert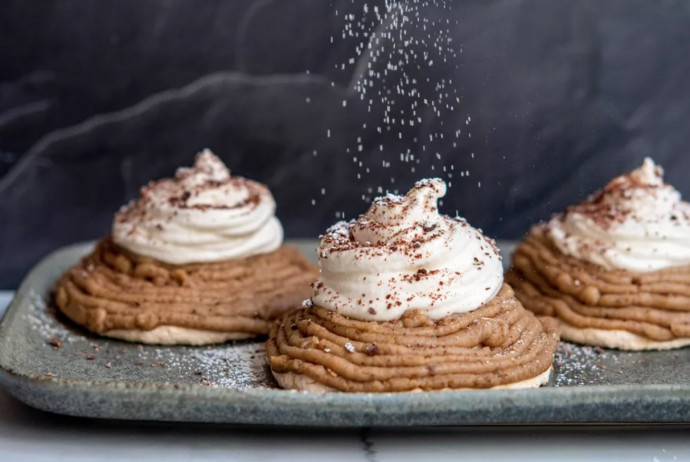 Appropriately shaped like the beautiful Mont Blanc, this classic French pastry features chestnut puree piled on top of meringue rounds and topped with whipped cream for a subtlety sweet dessert that looks like a little snowy mountain. Its pretty appearance makes this treat a beautiful and elegant addition to dessert tables, bridal showers, or celebratory tea gatherings.
This recipe can be made as one large dessert or individually sized. Since a raw egg white is incorporated into the whipped cream, make sure you use pasteurized eggs and be sure to let pregnant guests know about it, as raw egg consumption during pregnancy is not advised. Although the recipe requires a lot of attention and has several steps, it is easy to follow and a fun weekend baking project.
Ingredients:
For the Meringues:
4 large egg whites (room temperature)
1/8 teaspoon kosher salt
1/8 teaspoon cream of tartar
3/4 cup plus 3 tablespoons sugar
3/4 teaspoon pure vanilla extract
For the Chestnut Puree:
3 pounds fresh chestnuts, or 1 (31-ounce) can chestnut puree
1 vanilla bean
3/4 cup water
1/3 cup sugar
For the Whipped Cream:
1 1/2 cups heavy whipping cream
1 to 2 tablespoons sugar
1 teaspoon pure vanilla extract
1 large egg white at room temperature
2 squares grated semisweet chocolate, for garnish
Confectioners' sugar, for garnish, optional