Kale Pesto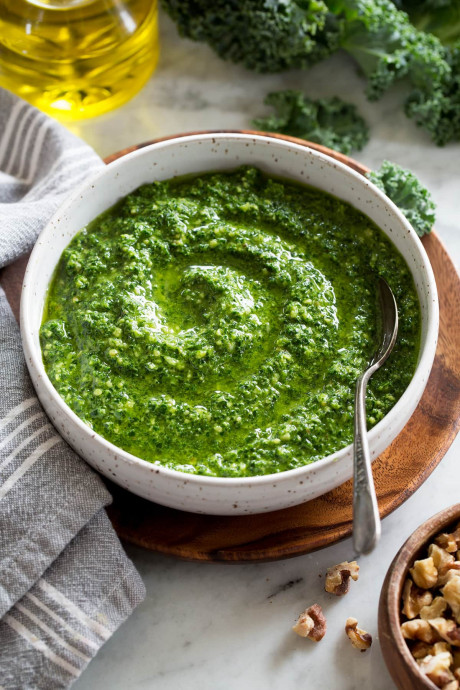 olive oil, bright lemon, and bold parmesan and garlic. It's a healthy Italian inspired sauce and there are countless ways to use it!
Kale pesto is a nice alternative to change things up from making the traditional herby basil pesto. I love to have both in the rotation.
It's the perfect pasta upgrade, and you can make it year round since there's usually an abundance of high quality fresh kale at the grocery store available throughout the entire year. Plus it's a less expensive option to basil pesto.
If you haven't had it before I think you'll truly be amazed at how delicious it is. This kale pesto recipe is proof that fresh kale can create some incredible dishes.
The key is to just use a balanced blend of ingredients to highlight the kale and tone down some of its boldness (such as lemon and parsley).
This is just simple ingredients, maximum flavor, and it's something you can feel good about eating!
Ingredients:
3 cups (slightly packed) torn kale leaves* (110g)
1/2 cup (slightly packed) parsley leaves (15g)
2/3 cup grated parmesan cheese (45g)
1 tsp lemon zest
1/3 cup walnuts (38g)
1 large garlic clove, peeled and crushed
1/4 tsp salt, then more to taste
3 Tbsp fresh lemon juice
1 to 3 Tbsp water, to thin as desired
2/3 cup extra virgin olive oil