Homemade Sausage Breakfast Casserole Recipe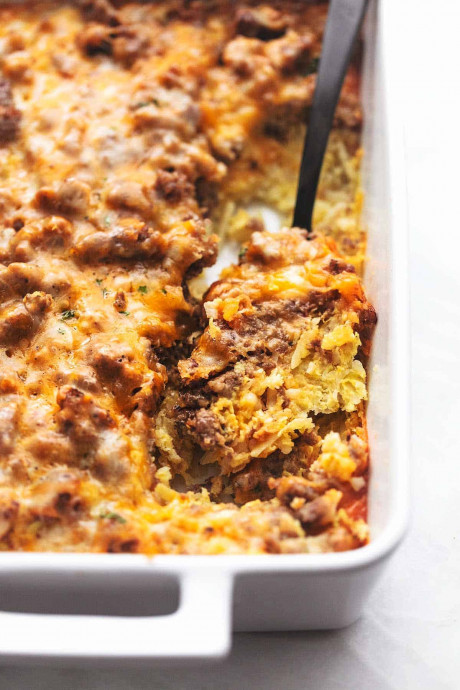 Hash brown and sausage breakfast casserole will see you through your toughest mornings when another bowl of cereal just won't do. The best part is the hash browns — they'll stay nice and toasty even after combining with the cheese, sausage, and eggs AND the leftovers are pretty fantastic.
Why This Recipe Works
Sheet pan — You simply must make these hash browns in a sheet pan. That is KEY to their cripiness and therefore the key to a solid foundation for this sausage and hashbrown breakfast casserole. A regular baking dish can be used, but your shredded hash browns won't crisp up quite as nicely.
Sausage crumbles — You really want the sausage mixed up into this breakfast casserole, so be sure to not skip this step or you might get mouthfuls of casserole with zero sausage. And that would be sad.
Easy ingredients — I start with frozen hash browns and it doesn't get any harder than that, ingredients-wise. If you have frozen hash browns then you probably also have everything else you'll need.
Perfect for a crowd — One of the reasons this is such a great recipe is that it is perfect for holiday mornings and special occasions. This sausage breakfast casserole with hash browns recipe feeds 8, but it's super easy to double it if you have some extra guests!
Ingredients:
for the eggs
8 large eggs
1 teaspoon salt
½ teaspoon cracked black pepper
for the hash browns
1 1 lb 10 oz bag frozen hash browns - thawed
3 tablespoons oil
1 teaspoon salt
½ teaspoon cracked black pepper
sausage and cheese
1 pound ground breakfast sausage
2 cups shredded cheese - mozzarella, cheddar, pepperjack, or a blend