French Carrot Salad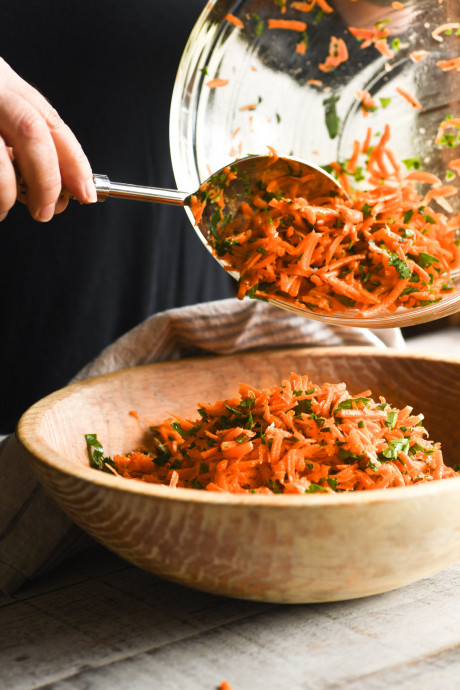 This classic French carrot salad is simplicity at its best – a fresh, two-ingredient salad tossed with the perfect lemon Dijon dressing for the most versatile side dish you'll make all spring and summer long.
French carrot salad, or carottes râpées (grated carrots,) is a salad you'll see all over France, in every little café or bistro. It's sold prepackaged in markets, and featured prominently in shop windows ~ this salad is popular! It's served alongside just about everything, and is so chic, so elegant, and so easy to make. It may have come to France via Morocco, where they make a classic carrot salad with lemon and cumin, similar to this one.
If you're trying to eat healthier these days, you'd be smart to consider adding this salad to your rotation. You can serve as a side with dinner, alongside (or on!) sandwiches and burgers, or really with just about anything else you've got going on your plate. You'll be getting lots of beta carotene, fiber, important vitamins (A and K) and antioxidants. They key here is that it's so easy to make, and so delicious ~ this is health food you want to eat. It's a win, win, win.
Notice there are exactly 2 ingredients in this salad. The carrots are crunchy, sweet, and earthy. The parsley is clean and fresh. The combination is surprisingly satisfying, and a good example of the French habit of restraint when it comes to food. Note that this is a completely different animal from the American 'old fashioned carrot salad' which contains, among other things, mayo, pineapple, and raisins.
carrots, peeled and freshly grated ~ could you use bagged shredded carrots? Sure, but then that wouldn't be in the French spirit, would it? Fresh carrots are brighter, moister, and much healthier than bagged.
fresh parsley ~ in about a 1 to 4 ratio. It's rare that you actually get to taste the lovely flavor of parsley in a recipe!
Ingredients:
1 lb carrots, peeled and shredded
1/2 cup chopped fresh parsley, lightly packed
For the dressing
3 Tbsp olive oil
2 Tbsp fresh lemon juice
1 tsp honey
1 tsp Dijon mustard
1/4 tsp ground cumin
salt to taste