Keto Chicken Mushroom Casserole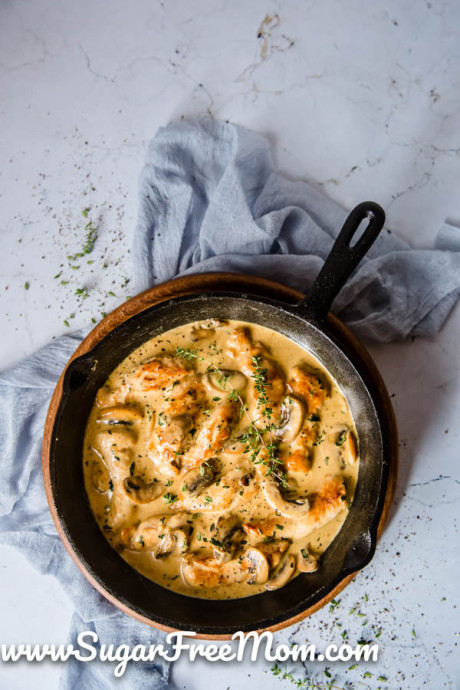 If you're a lover of tasty keto chicken recipes, you are going to enjoy this quick and easy chicken casserole recipe. The whole family will love this creamy chicken, even the picky ones! Creamy chicken and mushrooms go so well together. Add some fresh herbs and made in just one pan and you've got yourself a quick and easy keto meal for any busy weeknight made in 30 minutes. We eat chicken a few times a week in our home, because it's a cost effective meal and there are so many varieties and options.
Sometimes it can can boring if you constantly make the same recipes with chicken over and over again. So trying some new ideas will chicken will keep your family from complaining and this fantastic Keto Chicken Mushroom Casserole is going to be one of your favorites!One pan meals are the absolute best because you have less to clean up! Using a cast iron skillet will also, in my opinion, yield the tastiest results. A cast iron skillet sears the chicken so well and browns the mushrooms perfectly. Then those little crispy bits made when searing the chicken will be scraped up nicely with the chicken stock to deglaze the pan.
Ingredients:
1 pound chicken tenderloin
½ pound mushrooms thickly sliced
2 tablespoon butter
2 tablespoon olive oil
2 cloves garlic crushed
¼ cup fresh parsley chopped
2 tablespoon fresh thyme leaves
salt and pepper
½ cup chicken stock
½ cup heavy cream
¼ cup sour cream