Dan Dan Noodles ~ Easy Weeknight Recipe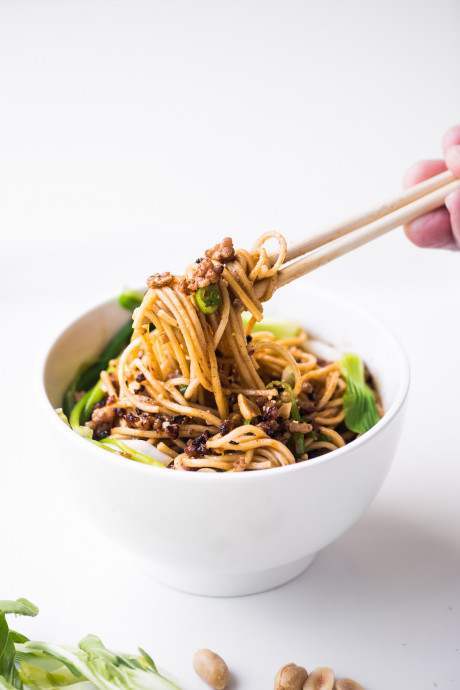 This is the easy 30 minute edition of Dan Dan Noodles ~ spicy Asian noodles in a rich creamy sauce, topped with crispy pork and barely wilted greens ~ your regular dinner just got bumped up to first class. The name refers to long poles that street vendors carried across their shoulders, with a pot of noodles on one side, and sauce on the other. Because it comes from such humble roots, there is no one official recipe for dan dan noodles, and that makes it a fun dish to play around with. The basic idea is noodles served with crispy ground pork, wilted greens, and a chili oil based sauce.
Authentic Chinese dan dan noodles are time consuming to make, and require hard to find ingredients. I've subbed in dried noodles for fresh, prepared chili oil for the homemade version, and left out the pickled veggies you can only find in Asian markets. My recipe maintains the essentials of the dish, and it's absolutely delicious. Seriously you need to make them.
Ingredients:
pork
1 tsp cooking oil
1/2 lb ground pork
2 tsp Hoisin sauce
2 tsp Mirin
1 tsp Tamari soy sauce
1/2 tsp five spice powder
noodles
9 ounce package of Asian noodles, I used Hakubaku Ramen
sauce
2 Tbsp tahini (sesame paste)
3 Tbsp soy sauce
2 tsp sugar
1/2 tsp five spice powder
1/2 tsp ground sichuan peppercorns (I did this in my coffee/spice grinder)
1/3 cup chili oil
2 cloves garlic, minced
1 tsp grated fresh ginger
veggies
1 bunch scallions, trimmed and sliced in half legnthwise
2 or 3 baby bok choy, trimmed and sliced lengthwise
garnish