Split Pea Soup with Ham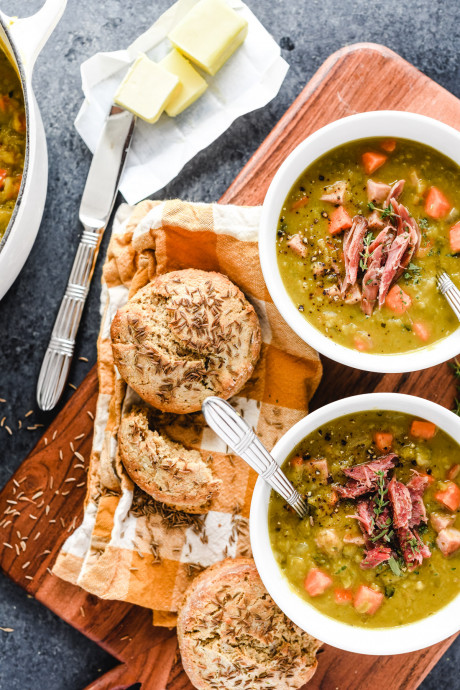 Split pea soup with ham is thick and creamy with incredible flavor from a smoked ham bone ~ this easy soup is comforting and delish! Just add biscuits or crusty bread to make a compete meal.
Split pea soup ingredients are very simple! Split peas - find these in bags in the bean section along with other dried beans and peas. Note: Legumes last a long time, but not forever, so don't be tempted to use a bag of peas that's been sitting in your pantry for years. Very old split peas may not soften up no matter how long you cook them. Smoked ham shank or hock ~ no need for a leftover holiday ham for this soup, you can find smoked ham bones at your grocery store. They are really the key to the whole soup, the flavor is incredible. Chicken stock or broth, yellow onion, carrots, bay leaves, salt and black pepper. Optional: extra diced ham ~ if you don't have leftover ham ask the supermarket deli counter for a 2 inch thick slice of ham. I add more ham because most ham shanks don't yield enough meat, and this makes the soup into a satisfying meal. If you're using a hambone that has plenty of meat attached, you won't need any extra.
Split pea soup is deliciously healthy! Split peas, like all legumes are protein rich and high in soluble fiber which can help lower cholesterol and control blood sugar levels. It can even help you maintain your healthy weight!
Ingredients:
1 Tbsp olive oil
1 Tbsp butter
1 medium yellow onion, diced
1 smoked ham shank
48 ounces chicken broth or stock Note: I have also made this soup successfully with 32 ounces of broth + 2 cups water
3 cups split peas (one pound)
2 bay leaves
4 cloves garlic, minced
3 carrots, diced
salt and black pepper to taste
optional
1-2 cups diced ham. This makes a meatier, heartier soup for dinner