Egg Waffles with Romesco and Goat Cheese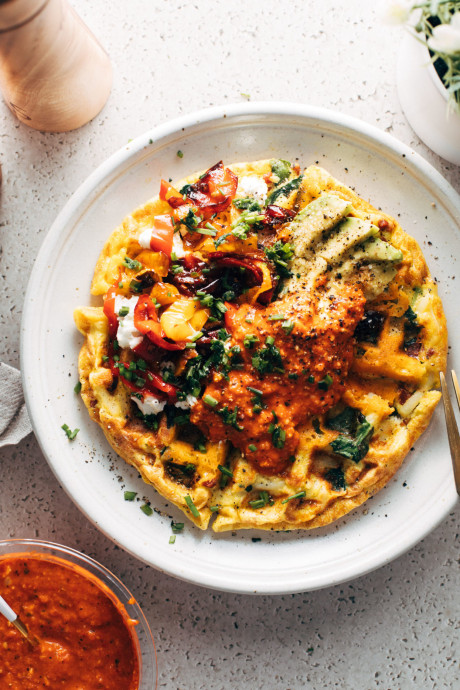 Egg Waffles with Romesco and Goat Cheese! Light puffy scrambled eggs loaded with lots of cheese, veggies, bacon (if you want), romesco sauce, and any other toppings you can imagine.
Don't you dare limit your waffle maker. Let her run free. Let her fly from the bounds of drippy batter-turned-waffle because today we're looking at making some cute lil' omelette guys in there and really, what a delightful little twist on brunch or brinner!
We all know scrambled eggs are easy, nutritious and quick, and can definitely save the day on one of those SOS-y type nights when you are really scrambling (lol pun intended) to get something on the table fast. You can throw veg in there. Protein? Coming 'atcha. Cheese? Yes of course, why not.
Light puffy scrambled eggs, speckled with little bits of bacon and spinach or any other veg/protein combo you love, some hashbrowns tossed in for good measure, and extra cheese that gets all goldy-crisp on top.
You can toss them on sandwiches, cut them up in strips for dippers or, like we love to do, pile them to the sky with delicious toppings. Crumbles of goat cheese, a swath of nutty sharp romesco sauce, a spoonful of peppers and garlic confit, avocado for days, a sprinkle of chives cuz they cute, maybe hot sauce because why stop now?
There are no limits to what you can make happen with these and your waffle maker is so excited to be of service. So proud.
Ingredients:
Egg Waffles
4 eggs
1 1/2 cups frozen hashbrowns (or just a grated potato works, too)
1/4 cup bacon or pancetta or cooked sausage (optional)
1/4 cup shredded cheese
a few shakes of garlic powder
1/2 – 1 teaspoon salt
1/2 cup spinach, torn or cut into small pieces (optional)
a couple little pieces of cheddar cheese to put on top (for extra cheesy-golden-brown spots)
Egg Waffle Toppings
goat cheese
peppers and garlic confit
avocado
romesco sauce (store-bought or homemade)
chives
hot sauce!